SAUTEED BLACK DRUM FILLETS WITH SPINACH, OYSTERS, SHIOTAKES AND TASSO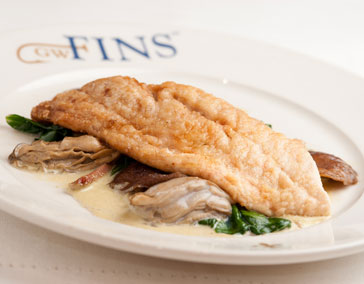 Recipe courtesy of Louisiana Kitchen & Culture and Chef Tenney Flynn, GW Fins, New Orleans, La.
Ingredients:
1 pint plus 1/4 cup shucked Gulf oysters
1 stick cold butter, cubed
4- 8-ounce skinless black drum fillets
salt & freshly ground black pepper to taste
1/2 cup all-purpose flour
2 tablespoons olive oil
1 tablespoon room temperature butter
8 ozs shiitake mushroom, stemmed & sliced
2 ounces tasso, julienned
1 pound spinach, washed, stems removed
Method:
Add 1/4 cup oysters to a small saute pan set over high heat and cook until oysters start to curl, about 3 minutes. Add cold butter and cook, stirring constantly, until melted.
Transfer to a pre-heated coffee mug, and puree with an immersion blender until creamy. Reserve in a very warm place or a double boiler at just under simmering.
Season fish filets with salt and pepper and dust with flour. Preheat a large - 12-inch or larger- saute pan, or two smaller saute pans over medium-high heat. Add 1 tablespoon olive oil and 1 tablespoon butter. Add fish and cook until flakey, about 4 minutes per side.
Meanwhile, set another pan over medium-high heat and saute shiitakes in remaining olve oil for about 3 minutes, stirring often. Add tasso and spinach and saute until spinach wilts, about 2 minutes, stirring often. Add remaining oysters and cook just until edges curl, about 3 minutes. Remove from heat and keep warm until ready to serve.
Divide oyster/spinach/tasso mixture amongst 4 large plates. Top each plate with 1 ounce of pureed oyster butter. Place 1 piece fish atop each plate.
SEAFOOD RECIPE
GAME RECIPE