THE CHRISTMAS KNIFE
Written by Don Dubuc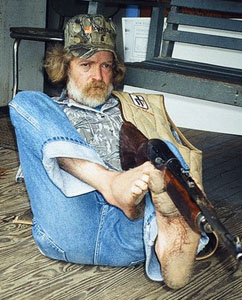 As you might expect in the business I'm in of outdoor writing and broadcasting, I get to meet some very interesting people. And every once in a while I meet someone who is well, just plain unforgettable. Recently I met one of those people. His name is Everett Johnson and he lives in the small town of Turkey Creek, LA. A friend of mine, Eddie Joffrion said Everett had become somewhat of a local hunting legend around his hometown and thought I might want to meet him. So I grabbed notebook and camera, met Eddie and headed for Turkey Creek.
As we walked to the back of a small, frame house out came this long haired, barefooted, bearded guy dressed in camouflage. When you meet him for the first time what tells you the most about Everett Johnson's personality are his eyes. Those intense, hungry-looking eyes, that after being around them for years, you see that same look in the eyes of all natural born hunters. Kind of that same cagey, careful stare you see in the eyes of a wolf or mountain lion.
Now Everett is a quiet, reserved fellow who doesn't waste many words and mostly answers only when spoken to with "yes-sirs" and "no-sirs." But when he talks about his second love, crafting custom-made knives from discarded steel sawmill blades, deer antlers and bois d'arc wood, his voice gets a little higher and more excited. And it's the same way when he talks about driving his four wheeler through the woods to the Lonesome Pine Hunting Club, the limits of squirrels he bags with his 20 gauge shotgun and the nice bucks he's taken over this years from his climbing stand with his bow and arrow or with that raggedy old .308 rifle. Especially when Everett talks about that 10-point buck, the best deer he's ever taken and how he did it with his
muzzleloader just a couple of weeks ago; well let me just say that it doesn't leave any doubt about what drives Everett Johnson, is his passion for hunting.
Gracie Johnson, his mother, stepped out onto the porch just in time to catch the end of his 10-point story and it's easy to see from where Everett gets his eyes. Except Gracie's eyes tell a different story of years of stress and strain, but at the same time a sense of satisfaction. And almost in tears, she told us how proud she was of Everett getting that deer.
"When he was just a little thing he looked up at a big-racked deer mounted on the wall and said 'Momma, I'm gonna get me one of those one day' and I almost cried knowing that it would never happen," she told me.
Gracie said it was just like the day 38 years ago when she cried as she looked at her armless, newborn son, the victim of a congenital birth defect. That's when you understand how a successful hunt that may not mean a thing to most people can make a mother so proud she could cry.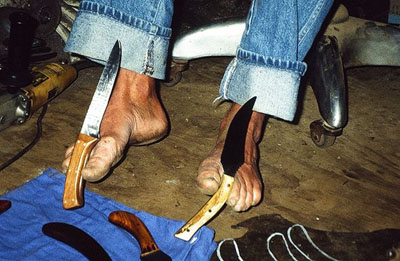 You see, just like Gracie had promised Everett he could do, on his 18th birthday he threw away his artificial limbs. And using only his bare toes, even on freezing cold days, trained himself to drive the four wheeler, climb trees with his deer stand, shoot a rifle, a shotgun, muzzleloader and his bow from a sitting position or lying flat on his back. Then, without any help, haul deer onto the vehicle and out of the woods. And by the way, he drills, grinds, sharpens and polishes those custom knives with his bare toes. About the only thing Gracie wishes he wouldn't do is light those darn cigarettes.
Everett made one of those knives for me and it sits on the book shelf in my office as a reminder of how determination makes a difference in our lives. What a great Christmas present that knife is. But I can't help thinking what a greater gift I found that day in Turkey Creek. A new friend with ultimate determination, no use for self-pity and an incredible inspiration for us all.