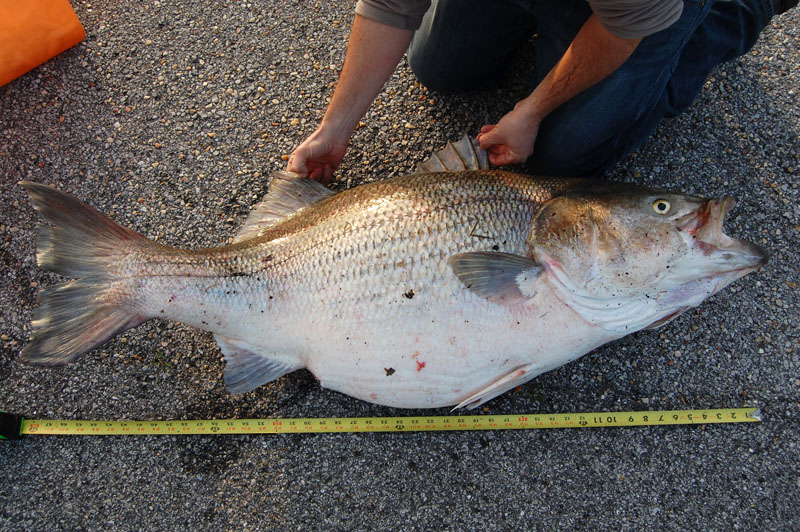 Alabama has a new state record for striped bass, and it is a whopper. On February 28, James Bramlett of Dora, Ala. hauled a 69-pound, 9-ounce striped bass from the Black Warrior River near the Gorgas Steam plant in north-central Alabama. After being weighed on certified scales, this fish beat the previous record by more than 14 pounds and measured 46.75 inches long with a 37.75 inch girth.
The previous Alabama record for striped bass was caught by Charles Totty on the Tallapoosa River in 1959. It weighed 55 pounds.
Heath Haley, a fisheries biologist with the Alabama Division of Wildlife and Freshwater Fisheries (WFF), measured Bramlett's fish shortly after it was caught. Fin clippings were also taken from this fish and sent to Auburn University for testing to determine the genetic strain of Bramlett's catch.
"Shocking," was Haley's response to seeing the fish for the first time. "This is definitely a once in a lifetime catch," he said. "Mr. Bramlett is an extremely generous, humble person and I'm excited to see him receive recognition for this fish."
The new Alabama record also has the potential to break the International Game Fish Association's (IGFA) world record for landlocked striped bass. The current record holder is a 67-pound, 8-ounce fish caught on May 7, 1992 in Los Banos, Calif. If certified, Bramlett's catch will be featured on the IGFA website, www.igfa.org.
Procedures for certifying the Alabama state record include weighing the fish on certified scales with witnesses and having the species confirmed by a WFF or certified fisheries biologist. The fish must be caught legally, including the possession of a valid fishing license, if required.
Alabama rules state that if a fish weighs less than 25 pounds, the new record must be two ounces more than the existing record. For fish weighing more than 25 pounds, the difference must be at least one-half of a percent more than the existing record. Otherwise, the records tie.