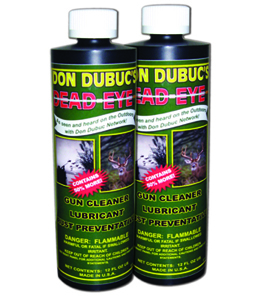 DON DUBUC'S - DEAD EYE
Gun Cleaner | Lubricant | Rust Remover

DD Dead Eye Gun Cleaner is a proprietary formulation developed for the extreme hunter. This revolutionary cleaner lubricant and metal protectant is the most advanced chemistry developed to protect your guns from saltwater, snow, humidity, dirt, grime, and all other outdoor elements.
Instantly cleans and removes powder residue, oil contaminants, carbon, copper and lead with our revolutionary cleaning chemistry's "bullet wash" technology. This advanced cleaning system removes all contaminants with just a few passed down the barrel.
All are lubricated and protected to meet the extreme cold and harsh conditions of the extreme hunter. This technology meets 96 hour of the 5% saltwater corrosion test ASTM B-117 and 2000 hours of the 100% relative humidity ASTM D-1748.
What does this mean to the EXTREME hunter is simply that your gun will be protected in EXTREME conditions without damage to the gun or it's function over extended periods of time ensuring the protection of your valuable equipment and success when you need it the most.
Each bottle contains 12 fluid ounces
2 Pack Special - $24.95