FIELD TO FORK - VENISON GREEK SLIDERS
I enjoy the flavors in Greek food - the sharpness of feta, the coolness of cucumber, the bite of garlic and the unique seasonings. Practically the only way I am going to get my Greek fix here in northeast Montana though is if I make it myself. And so, Greece is the next stop on my mulie meat world tourIt's Greek with an American twist!
I love me some tzatziki! Just ask my good friend and U.S. Ladies Production teammate Kippi Leatham. We both happen to be huge fans (and maybe even a bit obsessive) about garlic. While we were in Rhodes enjoying the sights and food we had tzatziki with almost every meal. The best we found was at a little eatery called Oscars. It was loaded with lots of garlic - YUM!

Garlicky Tzatziki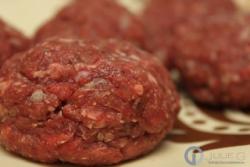 Mule Deer Greek Venison Patties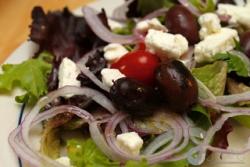 Greek Salad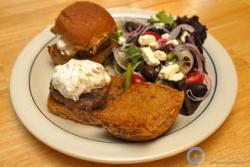 Venison Greek Sliders
Garlicky Tzatziki
Tzatziki is super easy to make. It stores well in the fridge for a dip or to smear on a bagel. Prepared early in the morning or the day before gives it a chance to meld all the flavors together. My version has a significant amount of garlic. If you aren't a huge fan, then one or two cloves will work too. Here's the recipe:
Tzatziki
16 oz. Greek yogurt
1/2 of a medium cucumber chopped into small pieces (1/4 - 1/2 inch cubes)
1 T. of dried dill
1 c. sour cream
5 cloves of garlic run through a garlic press
Mix it all up and refrigerate.
With the tzatziki chillin' in the fridge, next up I prepped the venison patties.
Mule Deer Greek Venison Patties
Venison Patties
1.5 lbs. of ground venison
1/2 of a small onion, finely chopped
1 T. of pine nuts, finely chopped
1 t. of Greek seasoning
Mix the onion, pine nuts and seasoning together. Then combine the mixture thoroughly with the ground venison. Form small, slider size patties that fit inside your hand.
After the patties were prepped, I cut dinner size wheat buns and placed them on a baking sheet with the cut sides up. I melted two tablespoons of butter and added the juice of half a lemon to a small bowl. Whisking the butter and lemon together, I brushed some onto each bun. Next up I preheated my oven to 400 degrees.
It was time to dig out my trusty Cuisinart griddler, plug it in and set it on sear. Venison is best cooked hot and fast. If you don't have a griddler, a grill pan or regular old grill will work just fine. Just remember to crank up the heat.
Greek Salad
While the oven and griddler were preheating I added a small Greek salad to my plates. Not completely authentic but close enough, my salad consisted of a lettuce and herb mix, cucumbers, grape tomatoes, kalamata olives, finely sliced red onion and feta. For the dressing I whisked together three tablespoons of extra virgin olive oil, the juice of the other half of my lemon and two teaspoons of juice from the kalamata olive jar.
When the griddler and oven reached preheat temperature, I placed the wheat buns in the oven and added the patties to the griddler. By simply closing the top, the griddler seared both the sides of the meat. Four minutes at sear and the patties were done to my liking. I kept an eye on the bread while the sliders cooked and I removed them from the oven when they toasted lightly to a golden brown.
Venison Greek Sliders
A toasted wheat bun and a Greek inspired patty topped with a generous dollop of tzatziki finished up my mule deer venison Greek slider dish. How did they taste? Mmmmm good - a full five M's on my hubby's gourmet gauge! So easy to make, this dish has already become a regular at our house.
--Julie Golob