Each third Saturday of the month from 8:00-9:00 am. join Don and outdoor communicators Captain Wendy Billiot and Lyle Johnson as they discuss issues that affect Louisiana's Fishermen and Hunters
CLICK HERE IF YOU WOULD LIKE TO LISTEN LIVE between 8-9 am cst
SHOW SPONSORS
---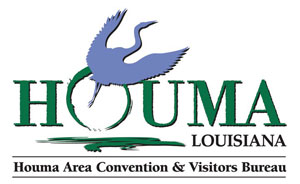 The Houma Area Convention and Visitors Bureau works year-round to promote Terrebonne Parish as a visitor destination. Commonly called the Houma CVB, it was established in 1986.
Houma is packed full of unique attractions, affordable lodging and delicious dining all wrapped around our world-famous Cajun culture and hospitality.
Visit their website at http://www.houmatravel.com
---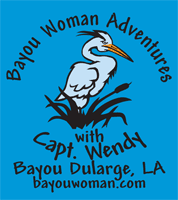 Bayou Woman Adventures
Captain Wendy is reaching out to women of all ages who love adventure, love the outdoors, love fishing, and women who want to learn more about being in the outdoors with other women in a safe, relaxing atmosphere. She offers Camp DuLarge as a bayou bungalow getaway perfect for small groups that want to retreat from their hectic every-day lives. Whether you run a corporate office or a houseful of children, let Captain Wendy help you let down your hair and cast away your care at Camp DuLarge. Call her today and plan just the right package for you and your lady friends!
Visit her website: http://bayouwoman.com/
---

Wayfarer Environmental Technologies is the exclusive manufacturer and distributor of OysterBreak™ semi-artificial oyster reefs. OysterBreak is a patented technology designed to use the oyster's inherent nature of clustering to enhance a strategic coastal protection structure for coastal and estuary shorelines. They may be applied to any shoreline project that calls for any combination of wave attenuation, and shoreline erosion mitigation. OysterBreak units are designed to serve dual functions by creating a reef structure for habitat and robust structure for shoreline protection. OysterBreak units may be custom designed to meet project and regional needs. Visit then at www.wayfarertach.com or contact them by phone at 225-916-6382 | 337-321-9311