Recipe for nutria sauce picante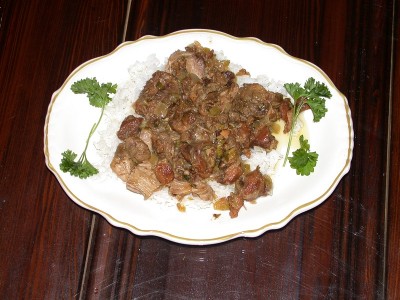 Clean the nutria. Cover with tenderizer and Cajun seasoning overnight. Cut meat into bite-sized pieces. Use 3 to 4 pounds of meat for the following sauce recipe.
On low heat, in a large heavy pan, slowly cook seasoned meat in 1 pound of real butter (with salt) until golden brown (about 20 minutes). Add 1 cup of chopped onions, 1 cup of chopped shallots, 1 cup of diced green bell peppers, 1 cup of diced celery, 1 teaspoon of salt, 1 teaspoon of A-1 Sauce, and 1 teaspoon of white pepper. Continue to heat on low, cooking for an additional 20 minutes.
Turn heat up to medium, add 2 cans of Ro-Tel diced green chilies and tomatoes. Stir constantly for 10 minutes. Add 1 package of instant brown gravy. Turn heat to simmer. Add 2 large cans of your favorite tomato sauce. Simmer for 30 minutes. If sauce becomes thick, thin with small amounts (1/2-cup or less) of water. Adjust salt and pepper. Serve over rice or noodles.
Images courtesy John E. Phillips