CHEF JOHN FOLSE GOOSE RECIPE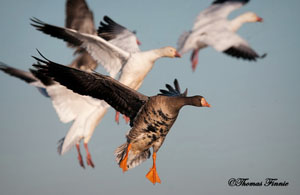 Prep Time:3 Hours
Yields: 6 Servings
Comment:
South Louisiana is a haven for game birds, which may be one reason the state is known as Sportsman's Paradise. Canadian and specklebelly geese are found by the thousands in the marshlands. This dish calls for a domestic goose, but feel free to use any wild species.
Ingredients:
1 (8–10 pound) goose
salt and cracked black pepper to taste
granulated garlic to taste
4 cups diced onions
2 cups diced celery
2 cups diced carrots
10 cloves garlic
paprika for color
2 cups sliced mushrooms
2 cups red seedless grapes
2 red apples, diced
2 green apples, diced
1/4 cup chopped basil
1/4 cup chopped thyme
Method:
Preheat oven to 375°F. Clean goose well inside and out. Remove giblets and place in a heavy roasting pan or Dutch oven. Season bird inside and out with salt, pepper and granulated garlic. Place a generous amount of onions, celery, carrots and garlic cloves inside cavity. Sprinkle outside of goose with a small amount of paprika for even color. Place goose in the roasting pan or Dutch oven. Add mushrooms, grapes, apples, basil, thyme and remaining vegetable seasonings to pan. Cover tightly with lid or foil. Bake 2-1/2 hours and check tenderness. Goose is cooked when legs pull away easily from the body. Once tender, remove cover and allow to brown. Roasted goose may be served with natural drippings, or juices may be strained and thickened with a light roux.