CRAWFISH MAC AND CHEESE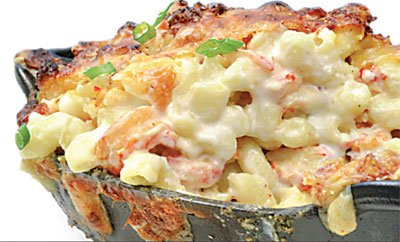 Ingredients:
1-pound Louisiana crawfish tails
1-pound elbow macaroni, cooked until just al dente 5 cups shredded sharp cheddar, in all
1 teaspoon salt
1/2 teaspoon black pepper
1 teaspoon dry mustard
Method:
Preheat oven to 350 ?F. Drain liquid off crawfish tails and reserve. Drain macaroni well and place in a large mixing bowl with 3 cups of cheddar, salt, pepper, mustard and hot sauce.
Place a heavy saucepan over medium heat. Add butter and melt; add minced garlic and sauté until fragrant, 1 to 2 minutes. Sprinkle flour over garlic mixture and whisk to blend; slowly pour in half & half and reserved crawfish liquid, whisking brisk- ly. Bring to a boil and hold at a hard simmer for 3 minutes while
Hot sauce
1/2 stick butter
3 cloves garlic, minced 3 tablespoons flour
21⁄2 cups half & half
whisking constantly. Remove from heat and stir in crawfish tails. Fold crawfish and sauce into the pasta mixture; taste and adjust seasoning.
Pour mixture into a buttered 13x9-inch baking dish, dot with butter and top with remaining 2 cups of cheddar. Transfer to oven (middle rack) and bake until golden, about 50 minutes. For a darker crust, broil for a few minutes, watching carefully.