SEAFOOD CALZONES
Recipe from Janelle Folse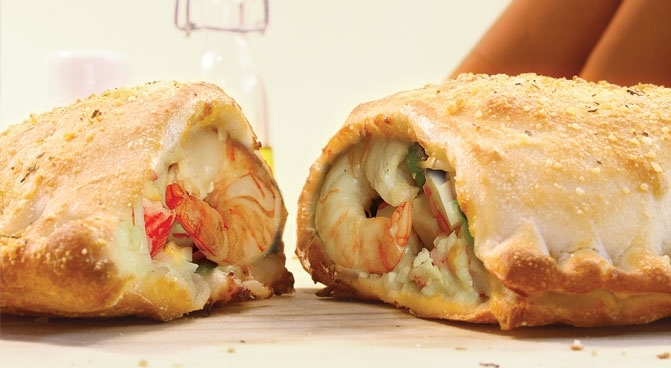 Seafood Calzone Filling
Ingredients
2 sticks real butter
1/4 cup all-purpose flour
1 medium onion pureed (soak in ice bath first)
1 medium green pepper diced small & uniform
1 clove of garlic minced
2 lbs. crab meat (1 white, 1 claw)
2 ib. small shrimp (peeled, re boiled in LA seafood boil and salt to taste)
1-1/4 heavy cream
Creole seasoning to taste
1/2 tsp LA liquid seafood boil
Instructions
1. Melt butter then add flour to make a blonde roux.
2. Stir in onion, peppers, and garlic in roux for 5 minutes.
3. Add crab & shrimp, cook for a few minutes
4. Add remainder of ingredients, cook until creamy.
Calzone Dough
Ingredients
1/2 cup mike (lukewarm)
1 tsp sugar
2 tsp active dry yeast
3-1/3 cup all-purpose flour
1-1/2 tsp baking powder
1-1/2 tsp salt
3/4 cup plain yogurt
1 whole egg
Instructions
1. in a small bowl, combine first 3 ingredients. Let stand until activated. It will become foamy.
2. Add yeast mixture and all other ingredients togethr in mixer. Mix well. You should get soft dough similar to pizza dough.
3. You can use immediately. Shape into whatever size you like, let rest about 15-20 minutes in warm area, then pop in the oven.
Assembling the Seafood Calzones
Additional Ingredients:
Seafood Calzone Filling
Calzone Dough
Ricotta cheese
Melted butter infused with garlic
Dried parsley
Instructions:
Preheat oven to 350 degrees. Roll out dough to desired shape and size on a lightly floured surface. Mine was an 8 inch round circle. Place about 3/4 cup of filling in the center of the circle. All 1 tbsp, of ricotta cheese on top of the filling.
Moisten edges of dough with water using your finger tips. Fold over to creat a half circle, crimp edges with a fork. Make a few small slits with a sharp knife to allow venting. Baste tops with melted, garlic infused butter. Sprinkle with dried parsley.
Bake at 350 degrees for 25 minutes, or until golden brown.