CRAWFISH BURGERS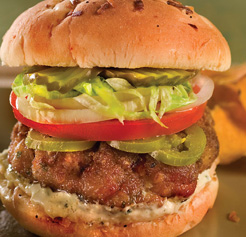 Recipe courtesy of Chef Emeril Lagasse, Emeril's Homebase, New Orleans, LA and Louisiana Kitchen & Culture
Ingredients:
Burger Mix:
1 tablespoon olive oil
2 tablespoons unsalted butter
1/2 cup very finely diced onion
2 tablespoons very finely diced red bell pepper
2 tablespoons very finely diced yellow bell pepper
3/4 teaspoon salt, in all
1/4 teaspoon cayenne pepper, in all
1 1/2 teaspoons Emeril's Original Essence, in all
2 lbs Louisiana crawfish tails, peeled in all
2 tablespoons chopped green onion tops
2 tablespoons chopped fresh parsley
1 tablespoon minced garlic
Method:
In a sauté pan, over medium heat, heat the olive oil. When the oil is hot, add the onions and peppers. Season the vegetables with salt and cayenne. Sauté for 2 minutes. Add the crawfish tails and continue to sauté for 2 minutes. Add the green onions, garlic and parsley. Sauté for 1 minute. Remove the mixture from the heat and turn into a mixing bowl. Cool the mixture for 2 minutes. Add the 1 egg, 1/2 of the bread crumbs and cheese and mix well. Set aside.
Season the flour, egg wash and remaining 1 cup bread crumbs with Essence. Form the crawfish mixture into 4 individual cakes, about 1-inch thick. First, dredge the cakes in