LEE BROS. SHRIMP BURGER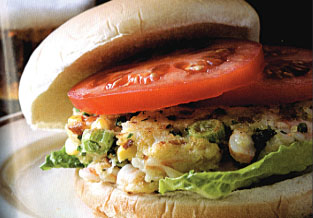 Ingredients:
Shrimp Boil:
2 quarts water
1 tablespoon peppercorns
1 tablespoon celery seeds
6 bay leaves, shredded
1/2 cup kosher salt
3 tablespoons ground cayenne pepper
Method:
Burger:
1 pound headless large Louisiana shrimp (26-30 per pound), shells on
2 tablespoons chopped scallions
1/4 cup fresh corn kernels, cut from the cob (about 1/2 ear)
2 tablespoons chopped fresh flat-leaf parsley
1 tablespoon grated fresh ginger
1-1/2 teaspoons lemon zest (from 1 lemon)
3 tablespoons mayonnaise
1 cup bread crumbs, preferably fresh
Kosher salt to taste
Freshly ground black pepper to taste
Pepper vinegar or hot sauce to taste
1 egg, beaten
1-1/2 tablespoons canola oil
In a 3-quart saucepan, bring the water and shrimp ingredients to a boil over high heat. Turn off the heat. Add the shrimp and let stand until they are just pink, about 2 minutes. Drain and run under cold water to stop the cooking. Peel the shrimp and chop coarsely. You should have 1-3/4 cups chopped shrimp.
In a large bowl, mix the shrimp with the scallions, corn, parsley, ginger, and lemon zest. Stir in the mayonnaise and bread crumbs and season with salt, black pepper, and pepper vinegar. Add the egg and gently fold with a wooden spoon or rubber spatula until evenly distributed.
Form the shrimp mixture into 4 patties, each 3-1/2 inches in diameter. Wrap the patties in plastic wrap and let stand in the refrigerator for 30 minutes.
Remove the burgers from the refrigerator and unwrap. Place the oil in a 12-inch skillet and heat over high heat. When it shimmers, add the burgers and sauté until both sides are gently browned, about 3 minutes per side. Drain on a dinner plate lined with a paper towel. Serve on toasted hamburger buns with lettuce, tomato, and tartar sauce.