CRAB QUESO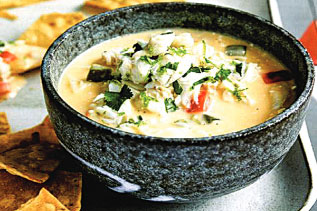 Recipe courtesy of Louisiana Kitchen & Culture - http://louisiana.kitchenandculture.com/
Ingredients:
2 tablespoons unsalted butter
1/4 cup diced yellow onion
1/2 red bell pepper, seeded and diced
2 jalapeños, seeded and diced
2 cloves garlic, minced
1 cup lager
1 cup water
8 ounces cream cheese, at room temperature
1 pound white American cheese, shredded
1 pound Louisiana lump crabmeat
2 tablespoons chopped fresh cilantro
1 tablespoon fresh lime juice, plus 1 teaspoon grated lime zest
1/2 teaspoon kosher salt
1/4 teaspoon cayenne
Tortilla chips, for serving
Method:
In a medium saucepan, melt the butter over medium-low heat. Add the onion, bell pepper, and jalapeños and cook, stirring occasionally, until softened, about 5 minutes. Add the garlic and cook for 30 seconds longer. Add the lager, water, cream cheese, and American cheese. Turn down the heat to low and cook, stirring, until the cheese has melted. Reserve 1/4 cup of crabmeat for garnish and stir in the remaining crab with the cilantro, lime juice, salt, and cayenne. Cook until the crabmeat is warm, a couple of minutes.
Taste and adjust the seasonings, if you like. Transfer the queso to a serving bowl, a small slow cooker, or a chafing dish over a flame. Sprinkle with the lime zest, spoon guacamole onto the center of the queso, and top with the reserved crab. Serve warm with tortilla chips.