ITALIAN BAKED OYSTERS
Recipe courtesy of Louisiana Kitchen & Culture.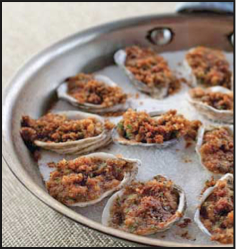 Ingredients:
1/4 cup salt butter (1/2 stick)
1/4 cup olive oil
2/3 cup Italian bread crumbs
1/2 teaspoon salt
1/2 teaspoon black pepper 1/8 teaspoon cayenne pepper 1/2 teaspoon dried tarragon
Method:
1/2 teaspoon oregano
2 tablespoons parsley, minced
2 teaspoons garlic, minced
2 tablespoons scallions (tops, finely chopped)
1-1/2 pints oysters (about 30 medium sized)
Note: freshly shucked oysters are preferred.
If not available, then in a jar from your grocer.
In a saucepan, melt butter over low heat. Mix in the olive oil and heat a couple of minutes more. Add all the other ingredients bread crumbs, garlic, parsley, scallions and the rest except oysters and mix well.
Let ingredients cook for a couple of minutes, give a stir or two, then remove from heat.
Place the individual, well-drained oysters in individual ramekins or gratin dishes and pour equal portions of sauce over each. Bake in preheated 450F degree oven until topping is well-browned - about 17 to 20 minutes.
Place on dinner plates and serve immediately.