After the Hunt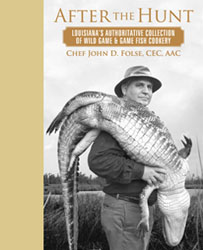 Now that hunting seasons are starting to wind down, it's time for sportsmen to start thinking about ways to make the best use of what their crack shots and woodsman skills have produced – wild game table fare! And Chef John Folse may have hit the season's biggest target with his timely release of his latest cookbook, After the Hunt, Louisiana's Authoritative Collection of Wild Game & Game Fish Cookery.
"During book signings last Christmas I was searching for a Louisiana game cookbook and found the shelves sorely lacking in options," Folse said. "At that moment the concept for After the Hunt was born and photography began the next week."

But this, Folse' eighth cookbook, is much more than a collection of recipes. While it has a colossal 871 pages of over 500 recipes of everything from the more common deer, duck and goose to harder to find recipes for wild boar, woodcock, snipe, raccoon and even rattlesnake, it's also an historical account of hunting.

After the Hunt explores hunting history from ancient man through Louisiana's Sportsman's Paradise. Readers follow man's development from the caves where he fashioned tools to the cultivation of his gluttonous taste for wild game and grand game banquets. From China to Egypt and from Greece to Rome, the hunt was immortalized in paintings, tapestries, symphonies and song. Folse also praises and recognize hunters for their leadership in wildlife conservation.

Archival photographs of our state's hunters and their camps are another of the book's strong points. Folse chose a unique method to acquire the photographs, camp stories and the recipes themselves – he went directly to the source! In a radio interview on my weekly program earlier this year Folse made an impassioned plea to the state's sportsmen for contributions.

"Gracious hunters around the state opened the doors to their camps to us. They shared recipes and old photographs and some even tried to teach me to shoot," Folse said. "From the 'Tiltin Hiltons' to multimillion dollar swamp estates, we've included them all in the pages of After the Hunt."

This book contains several chapters on collections of topics not likely to be found anywhere else in print. From biblical times to this season the philosophy and progression of hunting is described and depicted through illustrations and faded black and white as well as sharp, crisp color photographs.

Few game cookbooks contain chapters covering weaponry and the evolution of hunting clothing. Depicted are what the 1850s era huntress might wear all the way to early camo patterns, right down to today's hi-tech, weather and scent – proof products. There's a section on hunting dogs outlining what breeds are best suited for various types of game.

"Pairing Wine with Wild Game' is a chapter that only someone with Folse' experience with both ingredients could make a science out of such a topic. For instance his recommendation for generally prepared venison: "Merlot, Pinot Noir or Syrah. These are medium-bodied reds that will undercut gaminess and enhance earthy flavors of wine without overpowering the venison." Of course he also gives individual suggestions for braised, roasted, hearty/spicy, steak, soup and Chile Verde venison dishes. Similar wine recommendations are given for some 20 other game animals and side dishes. We're talking very hard to find stuff here!

A couple of pages are dedicated to photos and descriptions of boats used by hunters, trappers and fishermen that were designed and used exclusively for the rugged and varied rivers, bayous, swamps, bays, marshes and other Louisiana waterways.

I can't think of a single Louisiana game animal or bird that is not discussed or does not have at least one recipe but waterfowl hunters have some special sections for them. Several pages, illustrations and photos cover the rich duck and goose hunting heritage of Louisiana. Pages of information about hand carved decoys to the history of duck call making are covered with old photos of those who lived to hunt to pass the tradition down to their descendants.

Folse has outdone himself with this publication. Literally weighing ten pounds, wrapped in camo cover and sealed with a goose leg band, it is a true tribute to those who call themselves hunters. He and his team of writers, editors, graphic designers, photographers and chefs have compiled a dazzling array of historical images, succulent, but practical recipes and tantalizing food photography.

I could go on and on about of what I consider to be his finest book to date but Folse' dedication speaks volumes about what the book is truly about.
"This book is dedicated to my dad, Royley Folse Sr., who instilled in me a great appreciation for the bounty of Louisiana's swamp floor pantry and to the camp cooks, especially Uncle Paul Zeringue, who taught me the fundamentals of game cookery. To Chef Fritz Blumberg who coaxed me into the professional kitchen. Finally, this book is dedicated to the hunters and sportsmen of Louisiana past, present and future.

I am personally honored to be recognized in the Renowned Hunters & Conservationists chapter of this book. Who wouldn't be proud to be included in the company of Teddy Roosevelt, Ernest Hemmingway, Bing Crosby, Jim Bowie, "Buffalo Bill" Cody, and Aldo Leopold?

John Folse is the owner and executive chef of his Louisiana-based corporations including Lafitte's Landing Restaurant at Bittersweet Plantation, White Oak Plantation, Chef Folse & Company Bakery division, Chef John Folse & Company Manufacturing and Bittersweet Plantation Dairy. He hosts nationally syndicated television cooking show, "A Taste of Louisiana," and a radio cooking talk show, "Stirrin' It Up With Chef John Folse." The Chef John Folse Culinary Institute at Nicholls State University is named in his honor.

After the Hunt is available at bookstores or from Folse' online company store (www.jfolse.com) or by calling (800) 256-2433.