2015 Louisiana Youth Hunters of the Year

Kamryn Paige Hatton of Crowville is the Female Youth Hunter of the Year and Earl Darby Jr. from Broussard is the Male Youth Hunter of the year.
Kamryn's story began in 2014 when she made her first deer hunt with her dad hunting on her pawpaw's land in Madison Parish. As Kamryn wrote in her story, "it was a good day to hunt, not too cold, not too hot". A doe finally stepped out given Kamryn a good shot and she fired. Kamryn was much excited as they tracked the deer which had only gone forty yards. Dad smeared blood on her face because he told her "that is what you do when you kill your first deer". She could not wait to go back in 2015 and when she did, another deer went down, this time her first buck.
Kamryn is ten years old and is the daughter of Angel and William Hatton. It is only natural for a girl growing up in the big buck country of Louisiana to go deer hunting, especially if her dad works in the outdoors on a wildlife management area.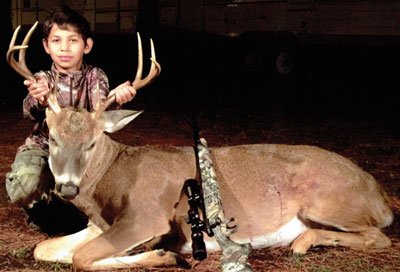 Earl's story also began in the 2014 hunting season when gammie and gampair, Rhonda and Arden Delahoussaye (his grandparents) took him on his first squirrel hunt and he killed five squirrels. A mounted black fox squirrel sits in Earl's room as a reminder of that hunt. Later in the year he went on his first deer hunt and killed a doe in Olla. Earl went back hunting in 2015 with Gammie and Grampair again. He was playing around on the floor of the boxstand when Grampair told him to get up and get his rifle. It was getting dark but Earl got the deer in his crosshairs and fired. Earl wrote that they waited a long time and then got down to look for the deer. Gammie came with her lights and after a while she was the one that found it in the sticker bushes. It was an 8 point buck; Earl wrote that Gampair did not know it had horns, he thought it was a doe. No doubt this trio will be in the woods again for the 2016 Season.
The Youth Hunter of the Year Program is a joint effort between the Louisiana Outdoor Writers Association and the Louisiana Department of Wildlife and Fisheries. The main goal of the program is to keep the hunting tradition alive in the Bayou State by recognizing young hunters and their families. Hunting has deep roots in the families of Louisiana and it is this next generation of hunters who will be the ones that keep it strong. Our two 2015 winners exemplify the goal of this program; their stories about hunting in the outdoors with their families demonstrate how important the hunting heritage is in Louisiana. These hunting trips bond families together in our great outdoors .
This program could not be possible without the support of our Registry Sponsors; the South Louisiana Branch of the Quality Deer Management Association, Bowie Outfitters in Baton Rouge, the Louisiana Chapter of the National Wild Turkey Federation, the Louisiana Wildlife Federation, the Baton Rouge Area Chapter of Delta Waterfowl,and Andrew Harrison of HarrisonLaw, LLC in Baton Rouge. LDWF and LOWA appreciates the active support of these organizations and individuals who support the young hunters and their families in this state.
The 2016 Youth Hunter of the Year Contest began with the 2016 Turkey Season and gets into full swing in September when the 2016 Hunting Season opens for doves and teal. Individuals interested in this program can visit the LDWF or LOWA websites and obtain further information.
For more information on the Youth Hunter program contact chairman : David Moreland, LOWA member, retired LDWF biologist This e-mail address is being protected from spambots. You need JavaScript enabled to view it