Flyway Federation Town Hall Meetings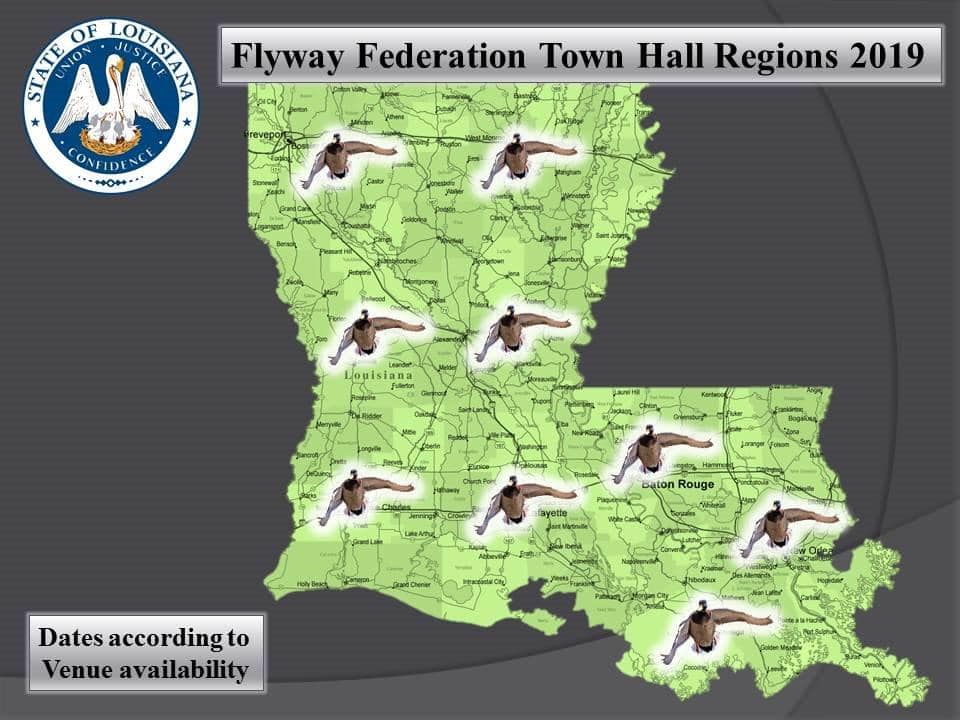 Attention!
Many of you have asked what's going on!
What have we been working on?
What is our plans moving forward?
How can you help?
The Executive Board and a large network of dedicated influential supporters have been working countless hours behind the scenes, to provide you with answers to the questions listed above.
Due to the rapid growth of Flyway Federation, we chose to slow down and plan our steps very carefully and strategically. The steps are in place and Flyway Federation is ready to move forward.
We appreciate each and every one of you, and the patience you have shown to us while we were planning the future of this organization. Flyway Federation would not be what it is today without you and your support.
We have elected to regionalize the first town hall meetings for every one's convenience across the State of Louisiana. We have identified 9 regions and will be planning to expand into other states very soon.
Town hall meetings will be very informative, and we encourage everyone to attend.
Town hall Agenda will consist of facts presentation, discussion on the issues we face as a State as well as your personal areas, provide insight on where we are today and what brought us to this point, discuss a plan of action and options moving forward as a organization.
The 9 locations for town hall meetings. According to venue availability these locations could move with in the surrounding area of these locations. Dates, times and location can be found on their facebook page.
North west – Bossier
North east– Monroe
West central – Leesville
East central – Alexandria
South west – Lake Charles
South central – Lafayette
South east – Baton Rouge
South bank – Houma
North bank – Slidell
If you are in or near one of the areas listed above, and you would like to volunteer, please email us at the link below. Include your name, and location.
Flyway Federation looks forward to seeing all of you very soon
https://www.flywayfederationusa.com/contact-us/