IACONNELLI NEEDS TO GROW UP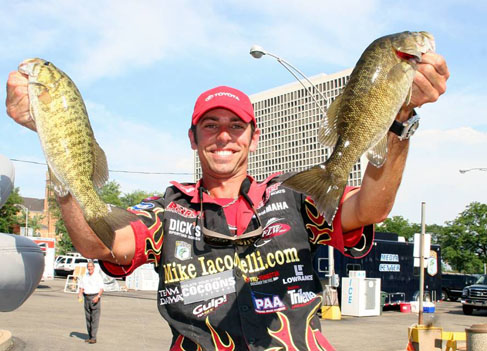 Time will tell if Michael Iaconelli's decision to live by the sword of eccentricity will cause him to also die by it. Bassmaster Classic officials decided to disqualify Iaconelli's first day catch last week for "conduct unbecoming a professional." Following what he thought was a live well malfunction causing his fish to suffocate, ESPN cameras captured what spectators also saw and heard – a fit of rage. Iaconelli grabbed the stern light on his boat, broke it in half and threw it in the water while uttering some profanities. To make matters worse each contestant's light serves as a mini-pole for the American flag leading some to say Ike's actions were in addition to childish, unpatriotic and showed disrespect with regard to the military. He appealed the disqualification but to no avail and finished 51st in the field – dead last. He was also disqualified in 2004 but under different circumstances, actually turning himself in for a boundary violation.
You see, Mike's really not such a bad guy, he just decided to follow more in the footsteps of a Dennis Rodman rather than a Peyton Manning. Both have achieved fame and fortune but by taking different paths. Rick Clunn, Denny Brauer, Kevin Van Dam are among the many pro fishermen who earned their fame through performance not by showcasing tattoos, fist-pumping and break dancing at weigh-ins. Not that Mr. Iaconelli couldn't have taken a seat next to any of them – make no mistake he is as good any bass fisherman that ever wet a line. I first met him at the 1999 Classic here in New Orleans. He fished his way there the hard way earning a spot through the Bass Federation amateur competition. Although a New Jersey fish out of water in a heavily southern down home-influenced sport, he came across as a well-focused, driven young man who showed promise to carving his name into pro bass fishing history. I noticed a change the second time he fished here. He wasn't the same confident, maybe just a little too cocky kid who was happy to get there. He was on his way to becoming what's known in sports circles as a "hot dog." Since then he's gotten progressively worse and I could see he was headed for a collision course with the B.A.S.S. philosophy of how professionals who kids of all ages look up to, should behave. Professional anglers rely heavily on sponsorships and endorsements from sponsors who in return for financial and product support expect a flawless reputation. Now the fallout from his temper tantrum has begun. The first of what could eventually be many of his sponsors, Ranger Boats, has bailed out on him as announced in this official statement from company spokesperson Randy Hopper.
"Based on a series of events that occurred during the recent Bassmaster Classic competition, Ranger Boats is withdrawing its sponsorship of and affiliation with Michael Iaconelli. We do not believe that Mike's conduct appropriately represents the deep-seated values on which our company was built and continues to operate. Ranger further acknowledges Iaconelli's impressive angling achievements as well as his commitment to promoting the sport of fishing. While we regret his actions leading to this decision, we wish Mike well in the future."
Sensing the possibility his antics may jeopardize his future as a pro fisherman; Iaconelli has issued his own damage control statement.
"I want to publicly apologize to anyone I have offended by my recent actions during the 2006 Bassmaster Classic. As you know I am a very passionate person. Sometimes my emotions get the best of me and that is exactly what happened. After finding several of my fish dying, I handled this crisis in the wrong way. I wish I could take back my actions but I am human and I made a mistake. I want to ensure everyone the frustrations and anger were in no way purposely directed toward damaging safety equipment or degrading the American Flag. I love this country and I love everything that the flag stands for. I am very patriotic and totally support our troops. No group more than professional anglers should feel as fortunate to live in a country that provides opportunity for so many to chase their dream.
By quoting the famous American President John F. Kennedy, "When written in Chinese, the word 'crisis' is composed of two characters – one represents danger and the other represents opportunity.' In the spirit of this statement, I ask for the forgiveness of my fans, peers, sponsors and all others who may have been offended by my actions. This has been an unfortunate incident and I regret what I did. When things like this happen you have to learn from your mistakes, keep fishing and move forward. This is what I intend to do and hope you will move forward with me."
Those words sound more like the 1999 Mike. His career has reached a crossroad and he has two paths from which to choose. My advice – Mike, skip the break dancing, shut up and fish. The question now is will history remember Michael Iaconelli as the outstanding angler he is or pro fishing's bad boy, the only angler to be disqualified from 2 Classics.