Alabama Rig Backlash
Written by Story by Frank Sargeant
Some anglers not thrilled with multi-lure rigs.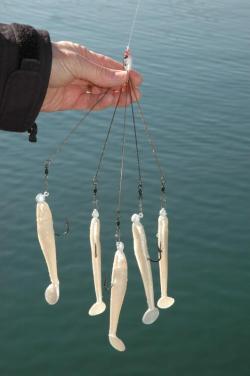 When Andy Poss of Muscle Shoals, Alabama, unveiled his "Alabama Rig" last year, it caused a gold rush the likes of which was never seen before or since in the world of bass fishing. After Paul Elias mopped up the field in a major FLW tournament on Lake Guntersville with the rig, Poss and his family literally could not make the $25, five-lure rigs fast enough-some people paid $100 to get their hands on one, and Poss found himself getting offers from tackle manufacturers across the country to buy his little family company.

Within months of Mann's buying out Poss, a half-dozen companies had slight variations of the rig, which is generally known as an "umbrella" rig because of the wire spreader frames which suspend the lures. The idea, Poss and others say, is to imitate a school of baitfish rather than a single. And it worked-man, did it work; people were bringing in strings of 7- to 8-pound bass from waters where they never before caught even one fish that size. And some anglers were catching two and even three bass on a single cast.

Of course, there were immediately dozens of "knock-offs", copies of the original with just enough change to avoid patent issues. One exec told me his company had bought 80 miles of stainless steel wire to try to meet the demand!

Now, however, it seems the dew is off the lily-and a fair number of anglers are not only refusing to use the lures, but are actively campaigning against them.

"As soon as the A-rig became widespread on this lake, I began seeing more and more bass with hook injuries in their shoulders and sides," says Captain Mike Carter, a long-time guide on Guntersville. "There's no doubt in my mind that most of these are caused by the extra hooks on the rig-sometimes they come up with one hook in the mouth and three in the body--and those extra injuries are sure to increase mortality on hooked fish."

Not only that, but some anglers don't see it as sporting.

"It's just not what fishing competition was meant to be," says Jasper Blow of Huntsville, a long-time tournament angler. "A lot of guys use it because they can't compete in a tournament if they don't, but not many people really like using it."

In fact, the A-Rig has been banned on the B.A.S.S. Elite Tour-one of the major-leagues of competitive fishing-as a result of a vote by the competitors. It is still allowed in FLW and most other tournaments, however.

While the use of the rig spread like wildfire for a time, the initial demand slowed as winter turned into spring and the bite moved from deep water to the shallows on most lakes.

Now, most of the thousands of anglers who were heaving the heavy rig in February and March have gone back to their standard tactics with single lures. They're much easier and more fun to fish-and they produce just as well as the Alabama Rig at this time of year.

Whether that will be the situation after the first freeze or two this winter moves the fish back out to feed on shad schools remains to be seen. If anglers start winning tournaments with giant fish taken on the rigs, you can bet they'll become popular again overnight.

Some states have moved to ban the use of more than three lures on a single rod, and companies like Sebile have come out with multi-armed spinnerbaits that give the illusion of a baitfish school but with only a single hook. Of course, anglers who want the attraction of the Alabama Rig baitfish school without the multiple hooks can simply put hookless swimbaits on the four arms and a standard hooked swimbait on the slightly longer center arm-that's the one that usually gets hit, in any case. YUM has put out the YUMbrella Flash Mob (you've gotta' love that name) which includes spinners on the arms-add extra hooks if you want them, or not.

One thing certain, the A-Rig is not going away anytime soon unless it's banned completely, a move which seems highly unlikely so long as bass are as abundant as they are throughout the South.