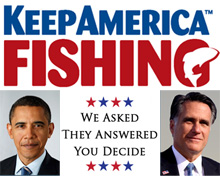 You rarely hear the presidential candidates speak to recreational fishing while on the campaign trail so to provide insight into each of the candidate's views on issues important to you, we asked each candidate eight questions. As with so many other issues there is a stark difference in their views especially with regard to government control.
Visit KeepAmericanFishing.org/youdecide
to see the questions and the answers.