Giant Goldfish Captured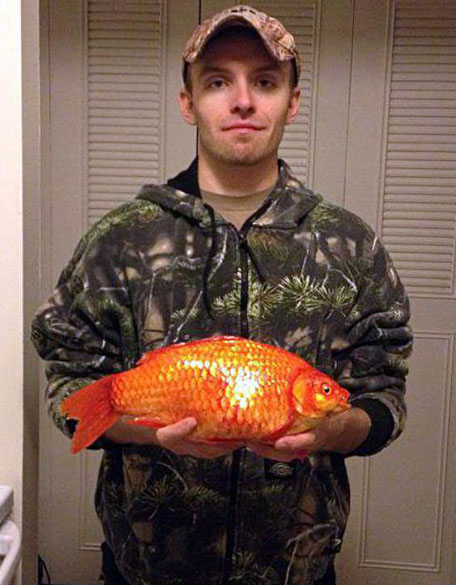 Story by Outdoor Hub Reporters
Michigan Man Catches Rare Giant Goldfish
The idea of eating animals typically kept pets is (obviously) contentious in the United States. People in America cringe at the thought of eating dogs, but what about goldfish, a favorite household pet of many adolescents? Michigan angler Mike Martin doesn't quite know what to do either with his fat, three-pound goldfish that he caught from Lake St. Clair.
He surmises that the 15-inch fish was somebody's pet that they "liberated." Goldfish tend to grow into the size of their tank and so this one probably wasn't on its own for too long. There is evidence for them growing to nearly the size of a human.
"Everybody wants to just dump them off … and let them be free, and this is what they turn into," Martin told reporters.
At first he thought he had reeled in a perch, and had it been a white perch, Martin would be holding a state-record fish. The record for a perch is one-pound, 14 ounces The state record for a yellow perch is three-pounds, 12-ounces. There is no state record for a goldfish, although other states do recognize the species.
He doesn't quite know what to do with his goldfish yet, but he did say he might make a mount of it for his wall.