Angler Hires Attorneys in Million-dollar Record Bass Fight
Written by Outdoor Hub Reporters

Image courtesy Rodney Ply
Arkansas angler Rodney Ply made headlines last February when he hooked a staggering 68-pound striped bass from Bull Shoals Lake in his home state. Ply's catch topped the state record by four pounds and the world record for landlocked striped bass by half a pound. The cherry on the cake is that Ply hooked the record fish while participating in Mustad's "Hook-a-Million" contest, which offered $100,000 for any state record caught with a Mustad hook and a cool $1 million for a world record.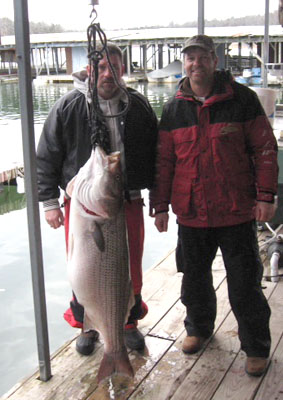 Ply did not receive any of these awards. In fact, he has reportedly gone into debt in trying to get his bass certified. Two disastrous setbacks have led to the $1 million prize being awarded to another angler, and a frustrated Ply to seek legal counsel. The bad news first began when Arkansas officials refused to accept the bass as a record. Wildlife officials stated that the scale was not officially certified at the time of the weigh in, even though witnesses were available and the scale was later found to be in perfect working condition. A later appeal to the Arkansas Game and Fish's headquarters by Ply was shot down because it was determined that he did not follow "proper post-catch protocol."
So scratch the $100,000 state prize. Still, it was a loss Ply could afford with a million dollars and a world record on the line. For that he awaited the decision of the International Game Fish Association (IGFA), the authority on world fish records. As the weeks turned into months, the decision hinged upon the lure that Ply used. The lure was Ply's own design and had a patent pending. It was a multi-armed umbrella rig that the angler called a "bass-tricker lure." IGFA, after months of review, called it an illegal spreader bar arrangement similar to an Alabama rig. The devastating announcement came in August and stripped away any hopes of a world record, and prize money that Ply had previously called "life-changing."
"IGFA had told me before they had never had a rule against a lure like mine," Ply told WPLG. "They classified mine as a spreader bar just to get me to go away."
Arkansas saw no problem with the lure. IGFA did not take issue with the fish's weight. This strange arrangement means that Ply, with a 68-pound behemoth of a bass, lost out on everything. With Ply's fish in certification limbo, the world record for a landlocked striped bass remained a 67-pound, 8-ounce fish landed by Hank Ferguson back in 1992. Recently, a catch by an Alabama angler may challenge that.
Ply was deeply frustrated by the rulings and called what he had been through "sickening." He had initially turned down the idea of legal counsel, saying that he just wanted what was right. This changed when, according to WPLG, Ply recently retained attorneys Eric Rudenberg and Mike Glasser of Broward County, Arkansas. A lawsuit against IGFA is currently in the works.
"I don't like to be done wrong and in life if I was to roll over what's the price the next time when I'm done wrong in life?" Ply said. "I don't want to see anybody go through what I've gone through over a record fish."
A petition was drafted on change.org to try and convince both IGFA and Mustad to award Ply his dues. So far it has gathered a little over 1,500 signatures.