Is it or not?
Written by Rob Pavey, Photo - unknown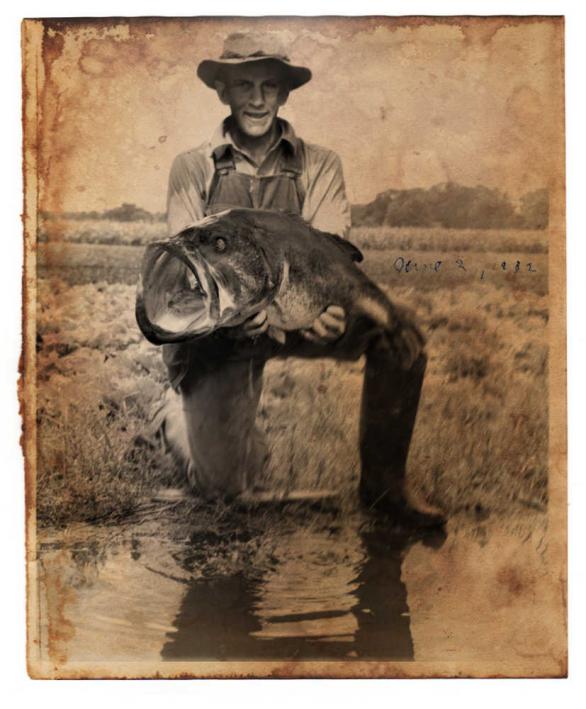 A photograph found in a Florida barn and e-mailed to Augusta author Bill Baab might show the bass George W. Perry caught in Telfair County, Ga., on June 2, 1932.
An old mystery took a tantalizing new turn last Sunday on the 81st anniversary of the day a young Georgia farmer landed what became the world-record largemouth bass. It was a photo, grainy and stained, depicting a thin young man in overalls, smiling broadly and holding a mammoth bass.
The photo was dated June 2, 1932 – and the man in the picture was George W. Perry.
The image arrived in an e-mail to longtime Augusta Chronicle outdoors writer Bill Baab, whose book, Remembering George W. Perry, encapsulated all that had been learned about the 22-pound, 4-ounce fish.
The e-mail also included a message: "Happy Anniversary."
Baab knows as much as anyone about the fish and the events of the day it was pulled from Montgomery Lake in Telfair County. Many details remain unknown, however, including whether
The e-mail, Baab said, disclosed that the image was found in a barn the family owned in Florida. But the sender declined to answer further questions.
Baab said he repeatedly tried to contact with the fellow, but after some initial correspondence, e-mails bounced back, saying the address did not exist.
The owner of the photograph likely could shed more light on the day the fish was landed, Baab said.
But we may never know. "Close, oh-so close," he said.
Perry's bass remains the reigning world-record largemouth, although a Japanese angler, Manabu Kurita, landed a fish in Japan's Lake Biwa in 2009 that was later certified as a tie with the Perry fish.
Perry's record lives on today, even though the fish was eaten the same day it was caught.