Delacroix surrenders giant speckled trout to marina owner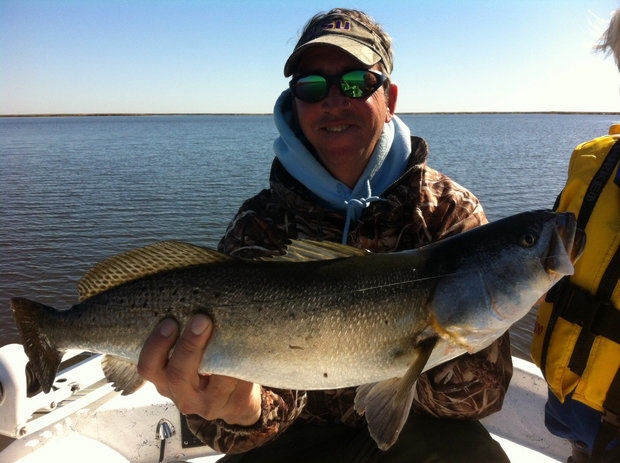 Capt. Jack Payne caught this 29 1/4-inch speckled trout Sunday afternoon fishing a no-name marsh area off of Delacroix's Oak River. (Capt. Jack Payne)
Ask South Louisiana anglers their favorite month for catching trophy speckled trout, and not a single one will answer January.
After a Sunday trip, though, the month now ranks very high with Capt. Jack Payne.
The Delacroix guide and marina owner boated a 29 1/4-inch speckled trout Sunday afternoon while fishing a no-name section of marsh off of Oak River. Payne estimated the fish weighed 7 1/2 to 8 1/2 pounds.
"I tore my boat apart looking for my Boga-Grip, but I couldn't find it. So I don't know exactly what it weighed," Payne said.
He released the fish alive.
"It was too beautiful. I couldn't keep it," he said.
Payne had just moved to the area to fish for speckled trout after a successful morning targeting redfish.
"We must have caught a hundred redfish," he said. "We just got there, and caught five or six trout when this one hit. I thought it was a redfish. I gave the rod to one of the kids on the boat, and said, 'Here you go. Fight this one.' The fish got about 10 feet from the boat, and I saw it. I said, 'Hey, kid. Hand me that rod back.'"
The fish bit a green hornet-colored Matrix Shad fished under a clip-on cork, Payne said.