"Day After Christmas Fishing" Poem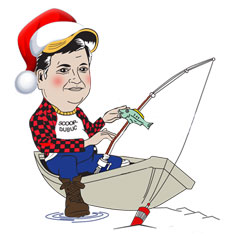 Twas the day after Christmas when all through the marsh
The tide was so low, even a coon couldn't wash;
The poles were all rigged and baited with care
In hopes that the big fish would all be there;
The Captain was ready to make a long cast
When a red-dressed fisherman pulled close and passed;
A little old driver so lively and quick
I knew in a moment, it must be St. Nick.
Now his job was all through, this was his time to fish.
Did he know how to angle or was this just a wish?
He looked like a peddler reaching into his pack,
And came out with a bait no fish would attack,
He might know reindeer but not fish this elf,
And we laughed when we saw him in spite of ourself.
He spoke not a word and went straight to his work,
Flipped out a lure and set the hook with a jerk.
When what to my wondering eyes should appear,
But a slimy and shaking big fish over there.
And he cast and he reeled and he reeled and he cast,
And the fish piled up unbelievably fast.
He caught reds, he caught flounder he caught drum and speckled trout,
He caught bass, he caught snapper and caught fish I know nothing about.
It took him no time to fill up a chest,
And I heard say him something about a whole year to rest
But I heard him axclaim before he drove out of sight,
Just one last cast, just one more bite.