Trolling for Mississippi Crappie
Written by Jeff Bruhl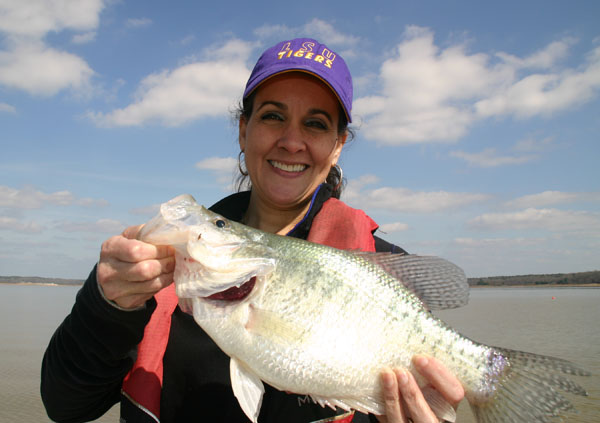 Interstate 55 cuts a path through the rolling hills north of Jackson, Mississippi as it directs traffic to Memphis, Tennessee. Several watershed lakes were built along the interstate to help control flooding for the farmers and residences. Sardis, Enid, and Grenada Lakes perform flood control but are known for crappie fishing across the region. In the spring season, Grenada Lakeway Charters (662-227-9210) specialize in trolling and wading trips for huge white perch in these watershed impoundments. Trolling for crappie is easy when tactics, presentation, and equipment are explained during a trip to Lake Enid.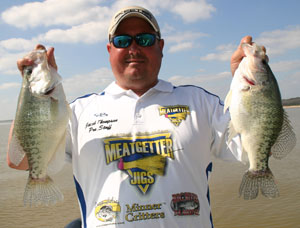 Captain Jacob Thompson helps show off a few of Lake Enid's big white crappie.
Local guide Jacob Thompson used his years of crappie fishing and tournament experience to locate schools of Lake Enid. The Skeeter bay boat was setup with rod holders, jigging poles, and terminal tackle specially designed to search out the lake's big perch. Add in the sonar and maps on the boats electronics, the fishing experience was fun and a pleasant day on the water.
Tactics used to catch big spawning fish rely on trolling, electronics, and map study. Spider rig trolling gets its name because the boat looks like a spider with eight jigging poles hanging over the side. The numerous poles with numerous baits mimics a school of bait fish as the boat is pushed by the wind or I Pilot trolling motor. Electronics is the next piece of the puzzle as it show the depth and number of fish around the boat. Finally, a good map, preferably on the electronics, allows the angler to fish creek channels, flats, or humps where the fish may stage during an outing.
Presentation comes next. Minnows or jigs, depth of the bait, and other factors make a trip a success. Often minnows are the best option. Capps and Coleman double minnow rigs are a good choice for presenting minnows on sixteen foot Ozark Trolling Rods with B'n'M crappie reels. These long rods put the bait far enough from the boat to avoid trolling motor prop wash. The minnow rig is dropped to a depth to match the information on the electronics. With eight rigs in the water, a few can be set deeper and a few shallower until the strike zone is found. For seasons with more insects in the environment, a Minner Critter from Meatgetter Jigs is excellent for adding color for, at times, finicky biting crappie.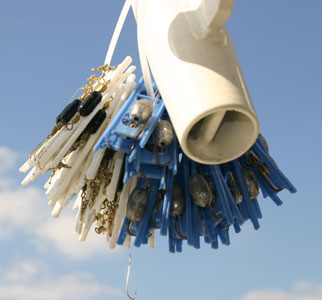 It helps to have plenty of double minnows rigs handy.
Additional equipment a trolling crappie angler may find a need for is a rod holder setup, a long net, and extra minnow rigs handy. Unless you can grow and extra set of arms, working four poles at a time is daunting. A rod holder like a Spider Lock allows the angler to set each pole in the water then place it into a holder. These holders allow the rigs to be set in various spreads in distance apart and height of the rod tip from the water for easy visibility. With fourteen and sixteen foot jigging poles spread around the boat, a long net is a must. Crappie are notorious for slipping away after being hooked due to their thin skinned mouths. In case a tree top, trout line, or other bottom covered is hit will trolling, a bag of extra minnow rigs comes in handy when it is time to retie eight poles.
Grenada Lakeway Charters has cabins and guides for crappie trips on area lakes. Sardis and Enid are less than an hour from Memphis which means a rib dinner is next on the itinerary. Grenada is less than two hours from Memphis and about equal distance to Jackson, MS. March, April, and May are peak times but the guides can put you on fish all year long. Trolling for crappie is great for all ages and anglers with little to no fishing experience. Although the scenery around these lakes is gorgeous, do not look too long. You pole is probably bending as another big fish takes the bait.