JACKIE GROSS WANTS TO BE EXTREME HUNTRESS 2012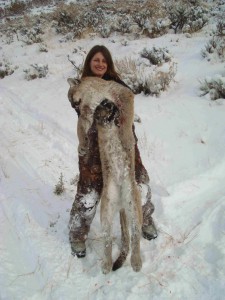 Cast your vote at www.tahoefilms.com
I'm a lil' southern country girl from Louisiana. My introduction to hunting came at a young age, when my brother would stick me in a blind while duck hunting. Once I learned how to shoot a shotgun I became hooked. My brother and I would hunt before school and in the evenings. I soon learned that this was just the beginning and it was the best freedom I could ever experience.
Over the years my love for hunting matured and the excitement became so unbearable that after college I uprooted myself and decided to move to the Rocky Mountains to have more of an opportunity to hunt big game animals with rifles and archery as well.
I can only try to create for you the heart thumping feeling that generates deep down inside of me when the start of hunting season arises. At first glance I don't appear to be the average female hunter; my physique is pretty tiny but I have underlying strength that comes from my love of hunting.
I am overcome with sensations that I could never have imagined when I begin hunting season and especially when I pick up a bow. I started to have a burning desire during hunting season. It is a feeling of the raw outdoors that can sometimes be overwhelming. My teeth chatter with adrenalin, my hands shake with anxiety and my smile overlays my face while hunting any game. Before any hunting excursions, I have to bring crackers and a soda because my nerves are so excited that it makes me sick to my stomach. It is an uncontrollable feeling that I have never felt in my life. I have to remind myself to breathe and remain calm so I don't pass out or hyperventilate. It has become such an obsession that my whole life revolves around hunting. When my friends and family call to visit, the first questions are not how I am; they ask what have I hunted lately?
Hunting season is a year-round sport for me. I am constantly looking for avenues where I can increase my hunting skills. My scheduled vacation and sick days are all used for archery season. Fever or no fever I will be at work so I do not jeopardize any hunting time. My favorite colors consist of camouflage and that goes down from my clothing, bikinis, to my pickup, dog collars, wrapping paper, and even what you should expect from me for Christmas.
My avid love for hunting doesn't just stop with the hunt itself; I am also a member of Rocky Mountain Elk Foundation, National Rifle Association, and North American Hunting Club. I also participate in the local woman's softball league and golf tournaments that work with multiple outdoor-related charity foundations.
I live for the thrill. When I see wild game fly or run by, all I can think is "Mmmmm, that would make good gravy."
For more information on the Extreme Huntress Contest, visit http://www.tahoefilms.com