Is the Louisiana Black Bear Program a smart thing to do?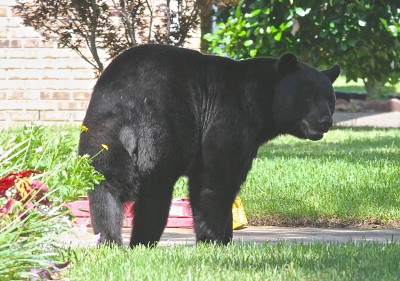 Image courtesy Florida Fish and Wildlife Conservation Commission
Two decades ago, the Louisiana Black Bear was on the brink of extinction, but today it is on the rebound. When the Louisiana Black Bear was listed as threatened in 1992 under the Endangered Species Act, there were estimated to be fewer than 300 of them left in the world. Today, innovative programs to reestablish these animals and restore their habitat through improved land management, high-tech monitoring, and public education are enabling the recovery. Black bears are featured as priority species for protection and management on the Tensas and Atchafalaya River National Wildlife Refuges, state-owned wildlife management areas, and on certain privately-owned tracts. The Louisiana black bear was designated the official state mammal of Louisiana in 1992. Bears are wonderful creatures, but is there room in today's society to restore them without creating a hazard to an ignorant, over-civilized human population? Read the following account of what the bear population progress in a neighboring Gulf States has produced.
A woman was mauled outside the garage of her Lake Mary, Florida home by at least one black bear on Saturday night. According to ABC News, Terri Frana, 45, had retrieved bikes for her children when she encountered the animals on her driveway. Frana claims that there were five bears of differing sizes, one of which dragged her from the garage.
"The bear got up on [its] hind legs and started to maul her, opened its jaws and put her head in the mouth and dragged her towards the woods," said her husband, Frank Frana. "Somehow she was able to pull herself out."
WKMG reported that the woman was able to seek shelter inside the house and the family called 911. Frana was later transported to a local hospital and treated for wounds to her head, arms, shoulders, and upper thighs. After receiving 30 staples and 10 stitches, she was released.
"She's fine," Frank Frana said. "She's still pretty traumatized from it all, but it's unbelievable she's fine."
Wildlife officers from the Florida Fish and Wildlife Conservation Commission (FWC) reminded residents that bears are now on the move in search of food. Terri Frana said that the bears were rummaging through the family's trash shortly before the attack. Due to the neighborhood's proximity to the Wekiva Wildlife Preserve, officials also advise residents to use bear-proof garbage containers.
FWC officers shot a 200-pound bear on Sunday believed to have been involved in the attack. The bear showed no fear when biologists approached it and did not flee after an officer yelled at it.
"We've got claw marks, blood marks, a lot of evidence right there that we should be able to match to this bear," FWC Officer Lenny Salberg told WKMG.
The Lake Mary mauling also happened within 10 miles of a similar attack on Susan Chalfant last year. The brutal encounter, which is believed to be the most serious bear attack in Florida history, left Chalfant with severe facial injuries.
Bear encounters are becoming more common in Florida, despite a statewide population of around only 3,000. FWC officials say that an increasing bear population and expanding suburban development may see more bears in human neighborhoods.