Would you do this to your kid? – The story of Hogzilla
Written by Don Dubuc |

Someone please, is there a plan for hunters like the federal witness protection program? If there is I'd like to highly recommend it to Jamison Stone. I think he really needs to lay low for quite a while. Remember Jamison, the eleven year-old, Alabama kid who made national headlines for killing a giant hog with his trusty pistol? Ok maybe you didn't, so here's the original story as best can be determined.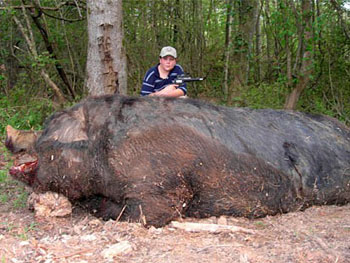 Jamison was hunting with his dad, Mike and two guides on May 3, 2007 at Lost Creek Plantation, a commercial hunting preserve near Delta, Alabama. Depending on who tells it, the place it was killed was a 150-200 acre fenced area within the bigger preserve which is somewhere between 1,500 and 2,500 fenced acres. Also depending on who tells it, Jamison fired somewhere between 8 and 16 shots during a three hour chase before killing a huge hog over 9 feet long that weighed somewhere around 1,050 pounds give or take 10 pounds since the calibrated scale it was weighed on measures only to the nearest ten. It took a backhoe to lift and remove the animal from the woods. Pretty exciting stuff, especially for a 6th grader from Pickensville.

"I was a little bit scared, a little bit excited," Jamison told reporters as if he were blowing the smoke off the barrel of his revolver. His proud papa Mike took a more pragmatic approach, "We'll probably get 500 to 700 pounds of sausage."

Dad also apparently has a flair for marketing. Before the more responsible media had identified this as the real thing and not one of the many "saw it on the web" hoaxes, Mike Stone had established a web site for young Jamison's mighty feat. Monsterpig.com displayed several photos of the giant hog proclaiming it bigger than the Georgia "Hogzilla" that was estimated to be around 8 feet and 800 pounds. It had links to the hunting preserve where it was killed and invited both positive and negative comments about Jamison's kill. It contained a resume for Jamison listing his vital statistics, where he attended school and his favorite hobbies. Clearly, Jamison (at least in Mike's mind) was worthy of rock star status. And he began to get it. After the newspaper, television and radio interviews he got an offer to appear in an upcoming horror flick, "The Legend of Hogzilla." Perhaps paid product endorsements would be next. But things took a sudden turn.

Immediately, animal right activists, vegetarians, anti-hunters and whackos of all types began attacking Jamison on the web site. Using some of the most vile, vulgar and threatening, poisonous language ever spewed, stuff usually reserved for the Osama Bin Ladens and Jeffrey Dahmers of the world, was heaped on an 11 year-old. Several of the postings included personal insults to his intelligence, weight, religious beliefs and morality. Many issued death threats to Jamison. Even some hunters chastised him for what they considered unethical hunting.

When it didn't look like it could get any worse, it did. While Jamison's story was becoming legendary, farmer Phil Blissitt contacted the Anniston Star, a newspaper that had covered the story early on and delivered some shocking news. The pig was far from as claimed, feral, or wild. Its name was Fred and was raised by Blisset and his wife from 6 weeks old in 2004 until they sold it to Lost Creek just 4 days before Jamison shot it.

"I just wanted the truth to be told. That wasn't a wild pig," Rhonda Blisset said.

Mike Stone has since gone on his site claiming he misunderstood that what he paid for Jamison to kill was not actually a wild hog, but farm-raised. But he says he is still proud of Jamison and blames the news media for trying to use the story to make headlines. I wonder whatever enticed the media to do that.

Despite all the negative comments the bottom line is there is nothing illegal that took place in all of this. It's perfectly legal to pay to kill privately owned hogs on preserves. The rules of what constitutes "fair chase" is left to individual discretion. What is unfair is a parent using an innocent child as a ticket to fame and fortune at their expense. To subject your 11 year-old to the vicious ridicule brought on by a web site promotion could have long-lasting effects. To not recognize where it came from speaks volumes about what a poor parent Mike Stone is. So does this response from his web site.

"It's a hoax, it's a pet, it's a movie promotion scheme, what's next? Hey news writers, if you are standing a little taller after Jamison's story, look down it is because you're standing on his shoulders. It's ok; he is after all, a big kid for 11."

With a father like that, I pray for Jamison's sake - that it's true.
Looking back at this past and recent seasons in the lower Mississippi & Central flyway states , what best describes how you rate the waterfowl situation?
Having outstanding seasons, don't change anything. - 1.5%
Having average seasons, no regulations/date changes needed. - 2.3%
Having below average seasons, but will rebound on its own its totally weather related. - 0.8%
Having below average seasons, need regulations/date changes. - 6.2%
Having worst seasons ever, need regulations/date changes. - 4.6%
Having worst seasons ever, state of waterfowl is in a crisis need extensive, drastic regulation/date changes. - 84.6%
The voting for this poll has ended on: 29 Feb 2020 - 19:03