Kayak Angler Lands Monster 1,247-pound Shark
Written by Daniel Xu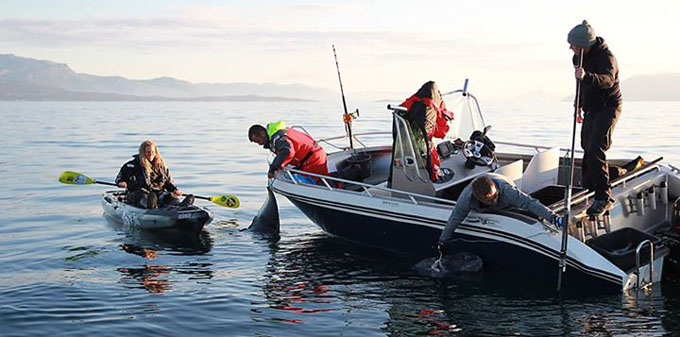 "The fight was just gruesome and extremely heavy. A few times it got a bit gnarly. I was scared of going over," he told Kayak Fish Magazine.
Records for fish caught and released on a kayak are loosely kept and mostly based on estimated weights, but many anglers now view Abrahamsson's catch as the new unofficial world record. The previous record holder was a 400-pound salmon shark reeled in off the coast of Alaska in 2008, and the heaviest kayak-caught fish to see a certified scale belonged to a 225-pound blue marlin by renowned angler Andy Cho in Hawaii.
"It felt like I was run over by a truck," Abrahamsson told SVT.
Abrahamsson was followed at a distance by a film and science crew when he landed the behemoth Greenland shark. Once it was captured, the angler handed over the animal to the boat crew for measurements and release. Abrahamsson said they found the the 13-foot fish to be around 200 years old, which is not surprising for its species.
Greenland sharks are strange even among their own kind. In addition to having the longest lifespan of any species of shark, Greenland sharks are also among the largest, the slowest, and the most adaptable to cold temperatures. Interestingly, the shark's flesh is also the most toxic as well, and can be extremely poisonous to humans. There have been documented cases of sled dogs accidentally consuming Greenland shark meat becoming unable to stand due to the neurotoxins in the fish's flesh. To humans, the meat can have an effect comparable to extreme drunkenness. Not surprisingly, Greenland sharks are considered a delicacy in Northern Europe due to this attribute, although many countries prohibit commercial fishermen from harvesting the species.
Abrahamsson said that the fish was released safely, although at more than a thousand pounds, the fish hardly poked out of the water at all. As proof of how tightly-knit the kayak angling community is, the Swedish angler found his Facebook page flooded with compliments from other professional kayak fishermen.
"Nice catch dude. The fight must of been awesome. I snagged a whale shark once and touched the leader to cut it free. Does that count also?" joked Andy Cho.