St Hubert Prayer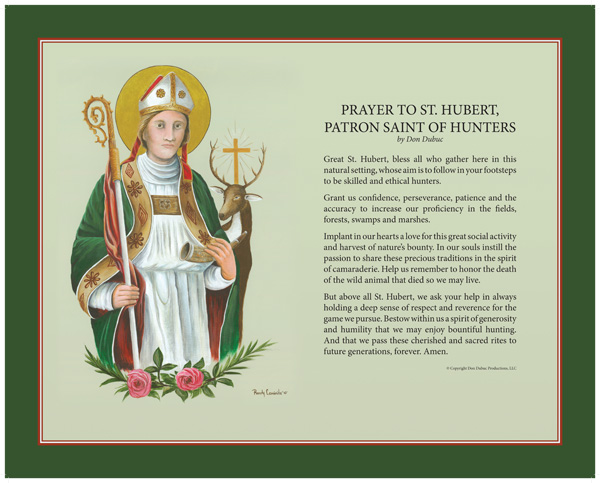 PRAYER TO ST HUBERT,
PATRON SAINT OF HUNTERS
by Don Dubuc
Great St. Hubert, bless all who gather here in this natural setting, whose aim is to follow in your footsteps to be skilled and ethical hunters.
Grant us confidence, perseverance, patience and the accuracy to increase our proficiency in the fields, forests, swamps and marshes.
Implant in our hearts a love for the great social activity and harvest of nature's bounty. In our souls instill the passion to share these precious traditions in the spirit of camaraderie. Help us remember to honor the death of the wild animal that died so we may live.
But above all St Hubert, we ask your help in always holding a deep sense of respect and reverence for the game we pursue. Bestow within us a spirit of generosity and humility that we may enjoy bountiful hunting. And that we pass these cherished and sacred rites to future generations, forever, Amen.
© Copyright Don Dubuc Productions LLC
ST HUBERT
A PRAYER & PORTRAIT OF THE PATRON SAINT OF HUNTERS
A MUST FOR EVERY HUNTING CAMP

* Stunning portrait by renowned wildlife artist Randy Caminita.
* Eloquent prayer composed by outdoor journalist Don Dubuc.
* Depicts the history of the origin of the Blooding Ritual (read the story).
* Creates an atmosphere of good fellowship, respect for our precious wild game, and ethical sportsmanship.
* Grace your fireplace, trophy wall, office, or wherever hunting buddies gather.
* No better way to return the favor from an invited guest to club members.
* Makes a unique and simple Christmas gift for every hunter.
This print is created using high-quality paper and printing to produce a vivid and detailed reproduction.

Print size is 16" x 20"
Paper Quality: 100 lb acid free cover stock with a matte finish

PRICE $50.00