ARTICLES

JUST MY OPINION
THE WATERS COMETH – NOW WHAT?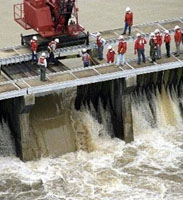 As I write this the Bonnet Carre Spillway just upriver from New Orleans is being opened, unleashing Mississippi River water into Lake Pontchartrain and points beyond. While not confirmed at press time the Morganza Spillway just above Baton Rouge appears to almost certainly be opened too, sending water towards the Gulf via wetlands near Morgan City.
BASS SLOT LIMTS PREMATURE FOR HOT SPOT
Written by Don Dubuc |

Ever heard of the old saying, "If it's not broke, don't fix it?" Sure you have and like most of us at least once you probably didn't adhere to it and ended up creating a real problem that would have been better off left alone. There's just something inside of us that thinks we can make things better, even when it comes to that master (or is it mistress?) of perfect design, Mother Nature.
Urbandale, Iowa police cited John Erickson, 23, who has a hunting license, for discharging a weapon within city limits in his backyard when they found him shooting squirrels with a pellet gun. If you were the cop, would you have:
Written the ticket, the law's the law? - 11.2%
Let him off with a warning and direct him to the nearest public hunting area? - 59.6%
Help him skin 'em and make the jambalaya? - 29.2%
The voting for this poll has ended