RECIPES

SEAFOOD RECIPES
Don Dubuc's Favorite Fishing Recipes
Over the years, Don has come across some truly phenomenal recipes for all types of fish and crustaceans found in the waters of Louisiana.
ARTICHOKE AND SEAFOOD DIP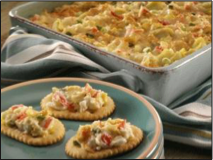 Courtesy of Louisiana Kitchen & Culture
Ingredients:
1 pound cooked artichoke hearts, chopped into small pieces
1 cup mayonnaise
1 cup freshly grated Parmesan cheese, plus more for topping
1/2 pound Louisiana crab meat
1/2 pound cooked Louisiana shrimp, chopped
1/4 teaspoon Cayenne pepper
1/4 cup dry breadcrumbs
Method:
Preheat oven to 350 ?F. In a medium mixing bowl combine
artichokes, mayonnaise, 1 cup cheese, crab meat, shrimp,
and Cayenne pepper. Spoon into a 1-quart oven-proof
baking dish, top with bread crumbs and remaining Parmesan cheese. Bake, 25-30 minutes, until heated through and lightly browned. Remove from oven, serve at once with crackers or thinly sliced baguettes.
If you have a favorite seafood recipe that you would like to share, please send it to Julie Lively jander- This e-mail address is being protected from spambots. You need JavaScript enabled to view it for inclusion in future issues.
SEAFOOD RECIPE
GAME RECIPE