RECIPES

SEAFOOD RECIPES
Don Dubuc's Favorite Fishing Recipes
Over the years, Don has come across some truly phenomenal recipes for all types of fish and crustaceans found in the waters of Louisiana.
LEMON & HERB CRUSTED DRUM WITH BOK CHOY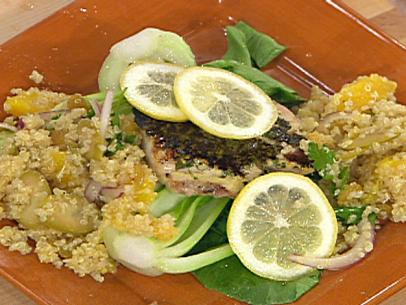 Recipe courtesy of Louisiana Kitchen & Culture.
Ingredients:
4 teaspoons lemon zest, chopped
4 teaspoons fresh dill, chopped
4 teaspoons fresh parsley leaves, chopped
4 teaspoons fresh chervil leaves, chopped
2 teaspoons cracked black pepper plus more for seasoning 4 6-ounce Louisiana black drum fillets
1/4 teaspoon salt plus more for seasoning
4 teaspoons Dijon mustard
1 tablespoon vegetable oil
4 heads baby Bok Choy
4 tablespoons olive oil
fresh lemon juice for serving
Extra-virgin olive oil for serving
Method:
In a bowl combine the lemon zest, dill, parsley, chervil and black pepper. Season the fish with 1/4 teaspoon of the salt, then lightly brush each piece with 1 teaspoon of the Dijon mustard on one side. Firmly press the mustard-coated side of each drum fillet into the lemon-herb mixture. In a skillet (nonstick is useful here) heat the vegetable oil. Place fillets, coated side down, into the hot oil for 3 to 4 minutes or until crust turns golden brown. Flip and continue to cook for 3 minutes longer or until the fish flakes easily. Meanwhile in a separate pan, place the Bok Choy cut side down. Add a little water to the pan to steam the Bok Choy until just tender, about 7 minutes. Remove the Bok Choy from the pan and toss in a bowl with olive oil and season with salt and pepper. When ready to serve, divide the Bok Choy among 4 plates and place 1 fish fillet over the top of each serving. Drizzle with lemon juice and extra-virgin olive oil to taste.