RECIPES

SEAFOOD RECIPES
Don Dubuc's Favorite Fishing Recipes
Over the years, Don has come across some truly phenomenal recipes for all types of fish and crustaceans found in the waters of Louisiana.
PAN FRIED GROUPER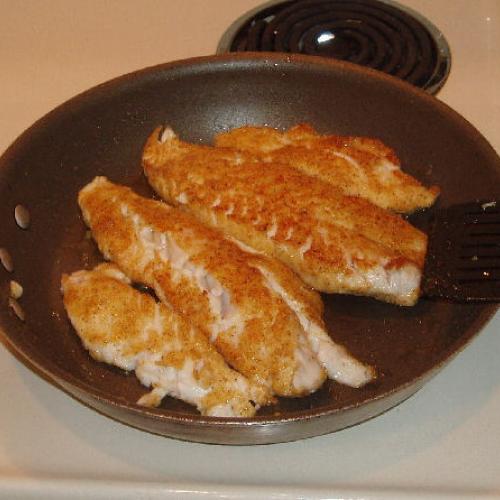 Courtesy of Louisiana Kitchen and Culture
Ingredients:
2 medium sized grouper fillets
2 large eggs
1 1/2 c. flour
1 1/4 tsp. salt
1/4 tsp. white pepper, freshly ground best
1/8 tsp. cayenne
1/4 c. (1/2 stick) salted butter
1/4 c. olive oil
1/3 c. shallots, minced
1 bay leaf
3/4 tsp. dry marjoram
Method:
Rinse the fillets and dry on paper towel. Combine eggs and 2 tablespoons cold water in a pie dish and beat lighty with a fork. Combine the flour, salt, pepper and cayenne in another bowl and mix well. Dip fillets in egg and water mixture then roll them in the seasoned flour to coat all sides. Place them on a platter - not touching - to let dry for 5 minutes.
In a large skillet melt the butter over medium heat, mix in the olive oil with a wooden spoon and continue cooking until the oil is quite hot. To test oil shake a small drop of water on oil if it skates and dances across then oil it is hot enough. Fry the fillets until browned about 3 to 4 minutes per side. Add the shallots, bay leaf and marjoram to the oil in the spaces around the sides of the fish fillets after the fish begins to brown on the first side. When the fish is done on both sides remove it to a paper towel lined platter. Continue to let the sauce in pan simmer for another 3 minutes. Serve the fillets with about 2 to 3 tablespoons of sauce from the pan.
SEAFOOD RECIPE
GAME RECIPE