RECIPES

SEAFOOD RECIPES
Don Dubuc's Favorite Fishing Recipes
Over the years, Don has come across some truly phenomenal recipes for all types of fish and crustaceans found in the waters of Louisiana.
SHRIMP AND CORN CHOWDER WITH BACON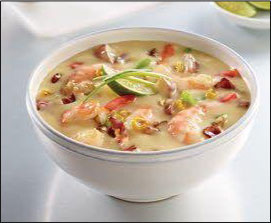 Recipe courtesy of Louisiana Kitchen & Culture.
Ingredients
2 pounds whole kernel corn, fresh or frozen 2 carrots, peeled and sliced thin
2 russet potatoes, peeled and chopped
1 red bell pepper, seeded and chopped
3 cups seafood or chicken stock
1 (8-ounce) bottle clam juice
1/2 cup dry white wine or additional broth
1 bay leaf
1 teaspoon garlic powder
1/2 teaspoon black pepper
1 pound small shrimp, peeled and deveined 1/2 cup heavy cream, room temperature sliced green onions
cooked crumbled bacon
hot sauce
Method:
Place the corn, carrots, potatoes, bell peppers, broth, clam juice, wine, bay leaf, garlic powder, and pepper in a lightly greased large slow cooker. Cover and cook on low for six hours. Remove and discard the bay leaf. Using an immersion blender, pulse the soup to slightly purée. Add the shrimp and cream and stir well. Cover and let stand for five minutes before serving warm with a garnish of green onions and crumbled bacon. Have plenty of hot toasted French bread; pass the hot sauce at the table.