RECIPES

SEAFOOD RECIPES
Don Dubuc's Favorite Fishing Recipes
Over the years, Don has come across some truly phenomenal recipes for all types of fish and crustaceans found in the waters of Louisiana.
PERFECT BOILED SHRIMP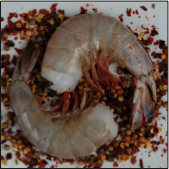 The trick to perfectly-textured, crisp to the tooth boiled shrimp is this: poach the shrimp rather than boil them. A heavy boil will toughen the shrimp.
Add cold shrimp to well-seasoned, boiling water. The cool shrimp will drop the temperature of the water; bring it just back to a simmer and keep it there. Simmer the shrimp for just 3-5 minutes, depending on the size of the shrimp.
Drain, and plunge the shrimp into cold water that has been seasoned just as you did the boiling water. This stops the cooking process but doesn't dilute the flavor.
SEAFOOD RECIPE
GAME RECIPE