RECIPES

SEAFOOD RECIPES
Don Dubuc's Favorite Fishing Recipes
Over the years, Don has come across some truly phenomenal recipes for all types of fish and crustaceans found in the waters of Louisiana.
GRILLED OYSTERS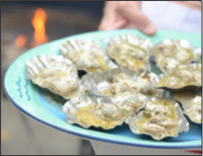 Photo courtesy of Louisiana
Kitchen & Culture
Ingredients:
1 quart oysters, in liquor (36 oysters needed) 11⁄2 sticks butter, softened
2 garlic cloves, minced
1 teaspoon ground black pepper
1 teaspoon dried whole-leaf oregano
1/2 teaspoon dried whole-leaf sweet basil 1/4 teaspoon dried whole-leaf thyme
3/4 cup grated Parmesan cheese
Method:
Preheat outdoor grill to 350oF with grill lid closed.
Drain oysters, reserve liquor for other uses. Melt three tablespoons butter in a small saucepan over medium-high heat. Add garlic and black pepper; sauté one minute. Add oregano, basil, and thyme; sauté 30 seconds. Remove from heat and add remaining butter, whisking just until it melts; set aside.
Place three oysters in each of 12 reusable shells. Place shells on heated grill using long tongs. Grill two minutes or until oyster just begins sizzle. Carefully spoon two tablespoons seasoned butter evenly over oysters in each shell (watch out for grill-fire flare-ups). Sprinkle one tablespoon cheese evenly over oysters in each shell. Grill additional three to five minutes or until oysters are fully cooked. Serve immediately.
SEAFOOD RECIPE
GAME RECIPE