RECIPES

GAME RECIPES
Don Dubuc's Favorite Game Recipes
Over the years, Don has come across some truly phenomenal recipes for all types of game.... if it can be hunted in Louisiana, Don has a recipe.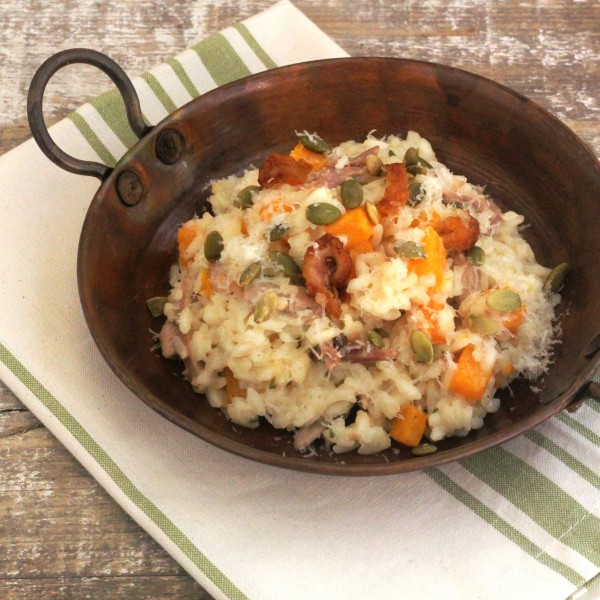 Ingredients
1 roast duck, including the skin
1 tablespoon olive oil
2 cups diced cooked pumpkin
1/4 cup chopped onions
1 tablespoon minced garlic
1/4 cup chopped fresh sage
2 cups Arborio rice
3 cups Duck or Brown Chicken Stock, hot
1 1/2 teaspoons salt
8 turns freshly ground black pepper
1 tablespoon softened unsalted butter
1/2 cup heavy cream
1/2 cup coarsely grated fresh Parmesan cheese
1/2 cup toasted pumpkin seed
Directions
Once the duck is roasted, remove the skin and cut it into a julienne, about 1 cup. Render the skin in a large skillet over high heat, stir-frying until crisp and brown, for about 6 minutes. Remove from the skillet and drain on paper towels.
Shred the duck meat from the bones, about 21/2 cups.
In a medium size sauce pan, over medium heat, add 1 tablespoon duck fat add the onions, garlic, and sage, and sauté for 1 minute. Stir in the rice and cook, stirring, for 1 minute. Stir in 1 cup of the stock, salt, and pepper and bring to a boil. Reduce the heat to medium and cook, stirring occasionally until all the liquid has evaporated. Continue to cook adding the stock in 1 cup increments until all of the liquid has been absorbed and the rice is tender and creamy, for about 18 minutes total. Add the heavy cream and butter and cook for 2 to 3 minutes longer.
Fold in the pumpkin and shredded duck meat.
To serve, allow 2 cups risotto each for 4 main-course servings; 1 cup each for 8 first-course servings. Serve in bowls and sprinkle with cracklings, pumpkin seeds, and Parmesan.