RECIPES

GAME RECIPES
Don Dubuc's Favorite Game Recipes
Over the years, Don has come across some truly phenomenal recipes for all types of game.... if it can be hunted in Louisiana, Don has a recipe.
SICILAIN-BRAISED HEART OF VENISON ORECCHIETTE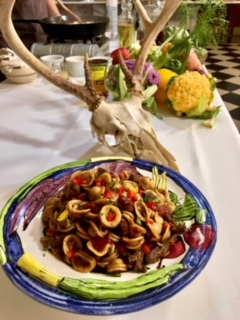 Prep Time: 1 Hour
Yields: 4 Servings
Comment: I am always "on the hunt," for unique game recipes. After a successful deer hunt, most hunters do not consider saving the hear. It is actually quite delicious when prepared correctly. Many shy away because it is east to overcook. This simple pasta recipe will make you the favorite cook at the camp!
Ingredients:
1 venison heart
1 pound orecchiette pasta
2 strips smoked bacon, diced
4 tbsps butter
salt and ground black pepper to taste
granulated garlic to taste
1 small onion, peeled and finely diced
1/4 cup diced celery
1/4 cup diced red bell pepper
1/4 cup diced green bell pepper
1/4 cup minced garlic
1 tbsp flour
1/2 cup ROTEL® tomatoes
1-1/2 cups beef stock
1/4 cup red wine
2 tbsps chopped parsley
2 tbsps chopped green onions
Method:
Prepare pasta accoording to package directions. Set aside until ready to serve. To clean deer heart, rinse under cold running water then submerge and squeeze it several times to pump out any remaining blood. Using a sharp 6-inch knife, carefully trim excess fat from the main arteries of the heart. Cut off excess fat and tissue that remain from field dressing to open and loosen the top part of the heart. Stand heart upright and insert thumbs to locate main muscles and arteries. Make a cut along the main arteries to expose the main muscles. Do not cut all the way through. Trim away any fibrous tissue that might be inside te heart. Butterfly the heart by pulling with your hands, opening the muscle and revealing more connective tissue and fiber. Remove excess fat and tissue from the top. Remove any remaining main valves and arteries.
NOTE:You may wish to reserve the trimmings for sausage making, stews or soups. Dice heart into (1/4-inch) pieces and set aside. In a skillet over medium-high heat, add bacon to render bacon fat. Remove bacon and set aside. Add butter to skillet. Season deer heart to taste with salt, pepper and granulated garlic. Sauté deer heart in butter 4-5 minutes or until medium-rare. Remove from pan, set aside and keep warm. Into the skillet, add onion, celery, bell peppers and minced garlic then sauté 3-5 minutes, or until vegetables are wilted. Sprinkle in flour and blend thoroughly. Add ROTEL® and beef stock then sauté 2-3 minutes, blending well. Deglaze with red wine, reduce to simmer and cook 3-5 minutes or until sauce thickens. Season to sauce to taste with salt, pepper and granulated garlic. Reduce heat to low and return venison and bacon to sauce, warming 1-2 minutes. To serve, place an equal portion of pasta on each plate and top with venison and sauce. Garnish with parsley and green onions. NOTE: You may wish to prepare this dish in a Crock-Pot® overnight. This is a perfet slow-cooking dish.