RECIPES

SEAFOOD RECIPES
Don Dubuc's Favorite Fishing Recipes
Over the years, Don has come across some truly phenomenal recipes for all types of fish and crustaceans found in the waters of Louisiana.
BEER-BATTERED FISH TACOS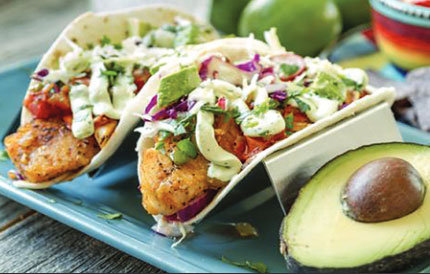 Recipe courtesy of Louisiana Kitchen & Culture.
Ingredients:
oil for frying
1 c. all-purpose or corn flour
1 tbsp. salt
1 tbsp. black pepper
1 tsp. dried oregano
1 tsp. cumin, toasted if time permits
cayenne pepper to taste
1 lb. firm white Louisiana fish fillets, cut into strips 1 c. dark beer
corn or flour tortillas, warmed
Method:
Pour oil to a depth of two inches in a deep, heavy skillet or Dutch oven, and set it over medium-high heat to 350°F.
Preheat oven to 200°F. Line a large baking sheet with paper towels and top towels with wire cooling racks; place in the oven. Whisk together flour, salt, pepper, oregano, cumin and cayenne pepper; taste, and adjust. Slowly whisk beer into flour mixture, stirring until no lumps remain, and set it aside for 10 minutes.
Working in batches, dip fish strips into batter, allowing excess to drop back into bowl, and slip into hot oil. Fry, turning occasionally, until golden and crispy, about three minutes total. Drain on prepared baking sheet, keeping fish warm while frying remaining fish. Serve hot, allowing guests to assemble as desired.