RECIPES

SEAFOOD RECIPES
Don Dubuc's Favorite Fishing Recipes
Over the years, Don has come across some truly phenomenal recipes for all types of fish and crustaceans found in the waters of Louisiana.
FRIED FLOUNDER SANDWICH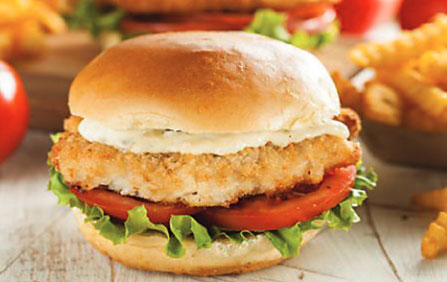 Recipe courtesy of Louisiana Kitchen & Culture
Ingredients:
1 cup mayonnaise
1 tablespoon minced green onion, white and light green parts only
1 tablespoon finely chopped dill pickles
1 teaspoon chopped fresh mint
1 teaspoon chopped fresh dill
1 teaspoon chopped capers
vegetable oil, for frying
Method:
Combine mayonnaise, green onion, pickles, mint, dill, and capers; cover and refrigerate until ready to serve. Pour oil to a depth of 3 inches in a large, heavy pot over medium heat; heat to 375°F. Combine 1/4 cup flour and 1/2 cup cornstarch in a large shallow dish. Whisk remaining flour, cornstarch, baking powder, and salt in a large bowl. Stir in club soda until mixture is the consistency of pancake batter.
1-1/4 cups all purpose flour, divided 1/2 cup cornstarch, divided
1 teaspoon baking powder
1 teaspoon seasoned slat
1-1/2 to 2 cups club soda
4 (6-ounce) fresh flounder fillets 4 sandwich buns
lettuce leaves, for garnish
Dredge fish fillets in flour/cornstarch mixture, tapping
off excess. Working in batches of 2, dip fillets in batter, then carefully lower into oil. Fry 2 to 4 minutes per side, until golden. Transfer to a wire rack set over paper towels to drain; repeat with remaining fillets.
To serve, spread buns generously with tartar sauce, layer with lettuce, and top with fish fillets. Serve hot.