RECIPES

SEAFOOD RECIPES
Don Dubuc's Favorite Fishing Recipes
Over the years, Don has come across some truly phenomenal recipes for all types of fish and crustaceans found in the waters of Louisiana.
ACADIAN PEPPERED SHRIMP
Recipe courtesy of Louisiana Kitchen & Culture. For more recipes or to subscribe to their magazine or free newsletter, please visit http://louisiana.kitchenandculture.com/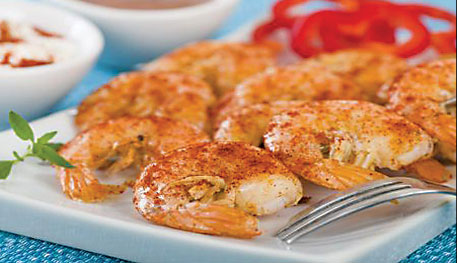 Ingredients:
4 pounds medium Louisiana shrimp, in the shell
1 cup unsalted butter
2 tablespoons fresh lemon juice
2 tablespoons Worcestershire sauce
4 cloves garlic, crushed through a garlic press
2 tablespoons black pepper, finely cracked
2 teaspoons dried basil
1 teaspoon dried oregano
1 bay leaf, broken in half
1/2 teaspoon salt
1/2 teaspoon ground cayenne pepper
dash of ground nutmeg
2 teaspoons minced fresh basil
Method:
Rinse the shrimp and pat dry with paper towels.
In a large, deep nonreactive skillet, over medium heat, melt the butter. Stir in the lemon juice, Worcestershire sauce, garlic, cracked pepper, basil, oregano, bay leaf, salt, cayenne and nutmeg. Cook, stirring often, until the butter turns almost chestnut brown, 10-15 minutes.
Increase the heat to high, add the shrimp and sauté until the shrimp turn pink and the interiors are opaque throughout, 8-10 minutes. Remove from the heat. Remove and discard the bay leaf and stir in the fresh basil until well blended.
Working quickly and using tongs, arrange the hot shrimp in a spiral pattern on a large round serving platter, leaving space in the center for a small ramekin. Drizzle some of the butter sauce over the shrimp and pour the remaining sauce in the ramekin. Serve hot.
Serves 4