RECIPES

SEAFOOD RECIPES
Don Dubuc's Favorite Fishing Recipes
Over the years, Don has come across some truly phenomenal recipes for all types of fish and crustaceans found in the waters of Louisiana.
CATFISH FINGERS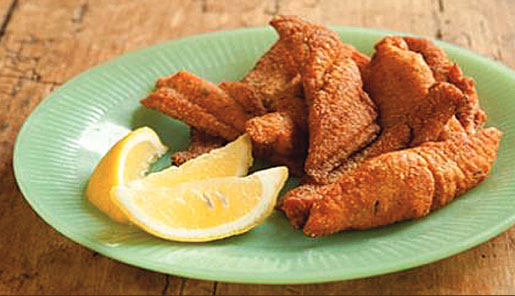 Ingredients:
1 c. course ground or yellow mustard
1 egg white lightly beaten
2 tsp. Tabasco Pepper sauce
1 1/2 lbs. Louisiana catfish fillets, cut into bite size strips 1/2 c. yellow cornmeal
Method:
1/2 c. all-purpose flour 1/2 tsp. salt
1/4 tsp. black pepper 1 quart vegetable oil
In a large bowl stir together mustard, egg whites and Tabasco sauce. Add the fish fillets and coat well. Cover and marinate for 1 hour. In a shallow dish mix together corn meal, flour, salt and pepper. Pour the oil into a heavy 3 quart sauce pan or deep fryer. Fill
it no more than one third fill and heat over medium heat to 350 ?F. Dredge the fish in corn meal mixture, shake off excess and add to oil. Do 2 or 3 pieces at a time and cook for 2 minutes or until golden brown. Remove and drain on paper towels. Serve the catfish hot with spicy mayonnaise, cocktail sauce, or tartar sauce.