RECIPES

SEAFOOD RECIPES
Don Dubuc's Favorite Fishing Recipes
Over the years, Don has come across some truly phenomenal recipes for all types of fish and crustaceans found in the waters of Louisiana.
Buffalo Shrimp
Recipe courtesy of Louisiana Kitchen & Culture. For more recipes or to subscribe to their magazine or free newsletter, please visit http://louisiana.kitchenandculture.com.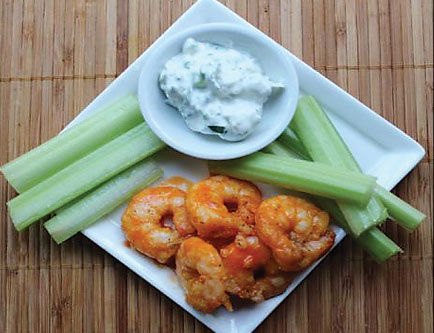 Ingredients:
2 lbs Louisiana shrimp, peeled and deveined
3 tablespoons olive oil
1 tablespoon onion powder
1 tablespoon garlic powder
2 teaspoons black pepper
1 teaspoon cayenne pepper (optional)
3/4 cup buffalo sauce or hot sauce
1 stick butter, melted
salt, to taste
Method:
Preheat broiler.
In a large mixing bowl, combine the shrimp, olive oil, garlic powder, onion powder, black pepper and cayenne pepper, if using. Toss to coat thoroughly.
Spread half the shrimp on a rimmed cookie sheet and broil on the second rack for 4 minutes. Turn the shrimp over and broil until cooked through; be careful not to overcook. Remove to a bowl.
Wipe off the cookie sheet, add the remaining shrimp, and broil as directed above; add to bowl.
Combine the buffalo or hot sauce and butter. Pour about 1/2 cup over the shrimp and toss; add more sauce if necessary to coat thoroughly. Serve with sliced celery sticks and blue cheese dip, or use the shrimp to stuff a po'boy. Serve any remaining sauce on the side.